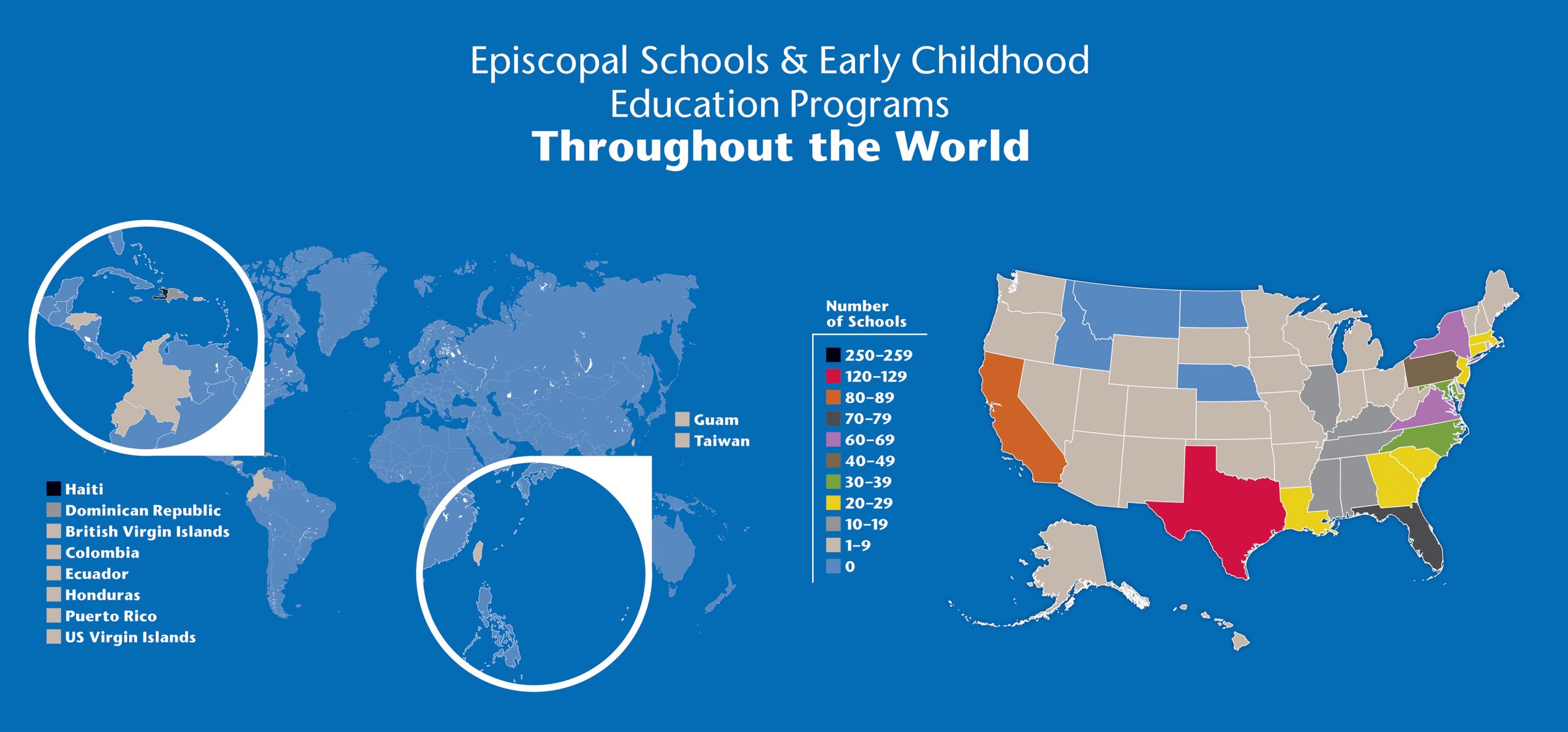 1,182 — the number of Episcopal schools and early childhood education programs. This number includes:

1,042 parish, cathedral, religious order, and seminary sponsored schools
140 diocesan and independent schools
577 early childhood education programs
477 elementary and middle school programs
54 secondary schools
74 comprehensive P-12 schools
1,138 day schools
36 day-and-boarding schools
8 boarding only schools
3 military schools and 1 school with an optional JROTC program

Episcopal schools are found generally throughout the Episcopal Church, which has 109 dioceses and 3 regional areas in the states, commonwealths, and territories of the United States and in Haiti, the British Virgin Islands, Dominican Republic, Honduras, Colombia, Ecuador, Venezuela, Taiwan, Belgium, France, Germany, Italy, and Switzerland.
The Episcopal Diocese of Haiti has 252 schools, the most of any diocese of the Episcopal Church.
Texas has 121 schools and early childhood education programs in 6 dioceses, the most of any U.S. state, commonwealth, or territory.
160,000 — the approximate number of students in Episcopal schools. The students represent significant socio-economic, racial, cultural, and religious diversity.
25% — the approximate percentage of Episcopal school students who are Episcopalians, although this number varies with location and type of school. This means that Episcopal schools serve a large number of students from other Christian denominations, non-Christian traditions, or no formal faith backgrounds.
$212,000,000 — the estimated value of all financial aid Episcopal schools offered in 2013-2014.
28,500 — the approximate number of administrators, faculty, and staff members Episcopal schools employ.
Trinity School, New York City, founded in 1709, is the oldest continually operating Episcopal school.