St. Matthew's Preschool
Bedford, NY United States
We are seeking a preschool director to forge a vision for St. Matthew's Preschool while making executive decisions about management and overseeing its daily operation. In addition to preparing each child for educational progression to kindergarten, the director should also establish programming to support the social and emotional growth of children. The director will continue to develop professionally, act as a mentor and plan professional development activities for the faculty. The preschool follows a play-based and emergent curricula. The director reports to the Rector and the Preschool Commission and works closely with the PTA.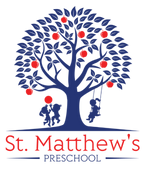 Contact Information