The blog entry that follows was composed as a follow-up to an NAES Biennial Workshop entitled, "Cultivating Civil Humans: Changing the Narrative." Cheleah Googe and I led this workshop and found the discussion refreshing. Difficult conversations took place in a civil and respectful manner. Here are some of my own thoughts on a challenging topic.

---

For people who are privileged to have first heard or read this word much later in their lives, the "n" word perhaps appears to trigger exaggerated reactions from overly sensitive people of color. For me, the word is a dagger I have felt from my earliest memories growing up in the legally segregated South. My parents, siblings, grandparents, relatives, and family friends have felt this dagger. Never has it been viewed as a term of endearment. For me, the word is laced with poison that seeks to destroy and annihilate those at whom it is aimed.
As I hear teachers explain the historical context of the word and assume that saying it aloud has been handled, I reel as I hear accounts of students hearing the word read in class by peers who at times seem to relish the "right" to use it. After all, students are told, "We are just quoting the writer."
I am not one who believes in banning books. I believe that, like other profane words that would not be read aloud, the "n" word deserves a place alongside other words that would not be acceptable in Middle School or High School classes. I am even aware of colleges and universities that forbid the use of the word in classes.
Those who are privileged enough to spout the history without wearing the pain can consider themselves as objective scholars who seek to put the word in context. I am among those who see the word as harmful and demeaning, as a physical blow. I need not hear it to understand the story or the history.
There are people of color who use the word without offense. There are people of color who never say the word nor use it in any jovial manner. I may be considered old school or even a fossil, but the history of the word destroys even the possibility of its being acceptable, especially among students who may already feel marginalized in their academic settings.
I am not surprised to find multi-million dollar companies that were eager to publish and distribute music laced with this derogatory term. Obtaining the dollar is placed above promoting human decency. People of all ages and colors rock, dance, and weave as that word emerges from audio speakers. Seeds of disparaging images take hold, affirming erroneous, preconceived notions about the people those images describe.
So, do we read aloud To Kill a Mockingbird, or The Adventures of Huckleberry Finn in our classes because they are classics? Or do we acknowledge that our inability to read them aloud stems from our anemic history in dealing with race and racism in the USA? Perhaps each rendering of the word is best read as the letter "n". In this way the reader is reminded that just as the full word should not be uttered, neither can the one about whom it is intended be whole in its presence. In a country where words have become weapons of mass destruction, we need to look again at the damage done by the "n" word.
---
About the Author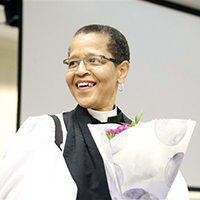 The Rev. Dr. Dorothy White received her Bachelor of Arts degree in Sociology from the University of Tennessee at Knoxville. She went on to earn a Master of Arts in Theology and Historical Studies from Oral Roberts University ("ORU") in Tulsa, Oklahoma, and a Doctor of Ministry degree from the Samuel Dewitt Proctor School of Theology at Virginia Union University in Richmond. Dorothy serves full-time as the School Chaplain at St. Catherine's Episcopal School in Richmond, where she teaches in the Religion and Philosophy Departments in the Upper School.