Earlier in the spring, it seemed like the question of the day at school was: "Have you seen Into the Woods?" Students—especially the ones whose interests were more theatrical—were enthralled with the story, one about all of the stories. Into the Woods is a masterful putting-together of several fairy tales, many of which include a dark and menacing "other" side. Stephen Sondheim and James Lapine work their magic with the music and lyrics, and the fairy tale characters meet in the woods to assign blame for an accident that is, in the end, really no one's fault.
One story line involves Little Red on her way to Granny's house, meeting The Wolf and getting drawn in to his infamous allure. After this encounter, and the ensuing unfortunate events, she sings a song to describe how it is to be brought into risk and danger.
And he showed me things
Many beautiful things,
That I hadn't thought to explore.
They were off my path,
So I never had dared.
I had been so careful,
I never had cared.
And he made me feel excited-
Well, excited and scared.
How many times have I, have you, have the students, colleagues, and parents in our midst stood at the intersection of excited and scared? How many of us have walked into certain situations with stomachs churning and thoughts swirling, feeling excited and scared? That's the space where we might walk right into temptation without knowing. It's also the space where the Holy Spirit works best—in spaces where we relinquish our expectations and control.
When I think about this intersection—this space where excited and scared meet—I wonder how we best teach our students how to live in this space. They know this intersection well. I often ask our Kindergarten students for examples of this: monkey bars, first days of school, or even learning new words. What are the tools our students need to make it through excited and scared without too much injury to their souls or bodies?
There are lessons we learn when we stray from the path, and if we don't go too far too fast, these lessons make for amazing stories, and resilient people. It's a very Anglican, "both/and" idea, I suppose: that we learn both from staying the path and from straying a bit, too. With all the emphasis in schools on making the right choices, and following directions, I wonder if we encourage the straying, also.
Life is a great deal of excited and scared. Our schools are perfect places to live into those spaces, and offer our students a place stay…and stray, and see what God has in store for us. Sometimes exciting. Sometimes scary. Always holy.
---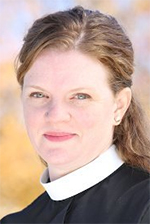 The Rev. Rebekah Hatch is Chaplain at St. Benedict's Episcopal Day School in Smyrna, Georgia.