---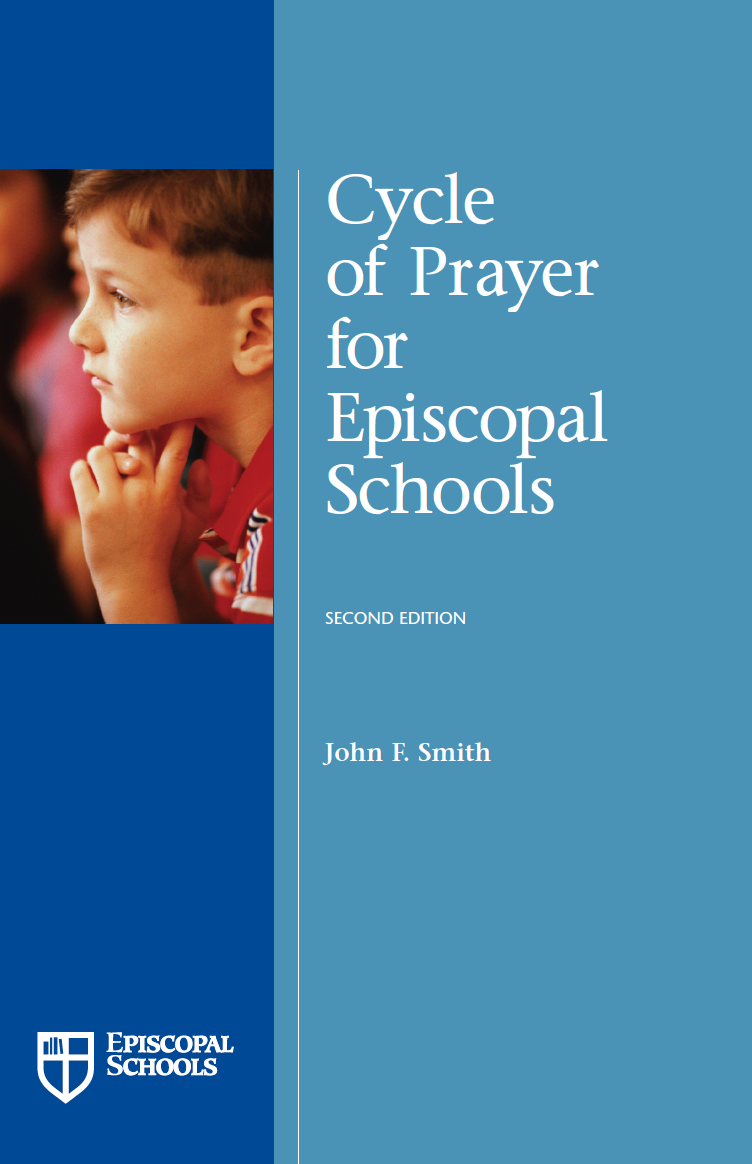 About the Cycle of Prayer
In addition to the commemorations observed by The Episcopal Church, Episcopal schools unite across time and geography as they pray each week's prayer in chapel.
The pattern follows that in the NAES book Cycle of Prayer for Episcopal Schools, Second Edition, adjusted for occasions with variable dates.
Visit the NAES Store to purchase a paperback copy of the book, which includes additional prayers for other occasions and for use with young children.
---
List of All Prayers
Below is a table of contents for the Cycle of Prayer for Episcopal Schools. Click here to view the cycle of prayer with dates for 2023-2024. All of the prayers below can be found in the printed version.
Cycle of Prayer for Episcopal Schools
For Schools and Colleges
A Prayer for Schools
A Second Prayer for Schools
Founders' Day: For Those Who Founded This School
First Week of September: Beginning School
Second Week of September: To Learn to Love Ourselves
Third Week of September: For All Students
Last Week of September: For Forms of Goodness in the World
First Week of October: Episcopal Schools Celebration
Second Week of October: For People Who Work in the Field of Medicine
Third Week of October: For Parents
Last Week of October: Life in the Fall
First Week of November: Elections and Public Service
Second Week of November: Space and Scientists
Veterans' Day
Third Week of November: For Music and Musicians
Last Week of November: Pleasure
First Week of December: Chanukah and Advent
Second Week of December: Modern Languages, People Who Differ from the Majority
Third Week of December: Light in Dark Places
Last Week of December: For Teachers
First Week of January: On a Morning of Sun [on Ice]
Second Week of January: For Really Little Kids
Martin Luther King, Jr. Day
Third Week of January: For Writers
Last Week of January: People Without Homes
First Week of February: For Friends
Second Week of February: Absalom Jones and the African-American Community
Third Week of February: Storms and Hurricanes
Last Week of February: Against the Trivial
First Week of March: Theater
Second Week of March: Life in School as Teachers and Students
Third Week of March: Artists and Art Teachers
Last Week of March: Passover and Holy Week
First Week of April: People Who Live in Poverty
Second Week of April: Addiction
Third Week of April: For All People Who Work at This School
Last Week of April: Earth Day
First Week of May: For Counselors
Second Week of May: HIV/AIDS
Rogation Days: Farmers in Spring
Third Week of May: Historians
Memorial Day
Last Week of May: For Mathematicians
First Week of June: At the End of the Year
End of Term and Year
Additional Prayers
Making This a Good School for Everyone
Honors Day
Chaplains
For the Athletic Department and Coaches
At a Faculty Meeting
At a Meeting of the Board of Trustees
For Grandparents
In Times of Crisis
At a Time of Loss
On Being Afraid
Envy
Expectations
To Be Ourselves Before God
For People Who Search
For Our Brains
For the Gifts of Logic and Reason
On Being Linked Together in a World of Sustainable Resources
Diversity
For the People of God Who Are Muslim at Ramadan
Birthday of the Buddha
On the Occasion of the Feast of Diwali
Juneteenth (online only)
Prayers for the Lower School
A Great School
A Beautiful Day
For Friends
For Pets
For Parents
For Recess
For Learning
For Librarians and Books
For Teachers
At the Death of a Student
At a Time of Crisis