It's hard to be new.
I speak from experience as I begin my first year serving as the Executive Director of the Southwestern Association of Episcopal Schools. While all transitions are difficult, being new can be tough. That can go beyond jobs or joining a new community, can't it? Do you remember the last time you tried to learn a brand new skill—maybe a new language, a new musical instrument, or even tried out a new recipe?
When you are new, you notice so many things that might otherwise be taken for granted; things that slow you down which might not hinder the more experienced. Where are things located? What are some of these words and phrases I hear being thrown around that seem absolutely foreign to me? Where do I park? What do you mean "log in credentials?" Am I supposed to have those?
As we all prepare for a new school year, this is a time for many in our community to be trying something new. For some new families, they are learning their way around their new environment. It might be the first time they have even been part of ANY Episcopal community. In addition to being in a new place surrounded by new people, there are new words to learn, new traditions to enjoy, and new approaches to important questions. The same applies to new faculty and administrators. Almost all of our communities will have new educators eager and excited to share their gifts and talents with the students in our midst. No doubt, they experience trepidation, too.
It's an exciting time—but it can be a scary time, as well.
As we begin a new year, I am reminded of the words contained in our Baptismal Covenant. One of the things that we take seriously is the desire to protect and guard the dignity of every human being. We also seek and serve Christ in all persons. This is a perfect moment to live out that covenant in our schools.
It seems to me that empathy is the key. Many of us have been in our communities for a long time. Everything is known and comfortable. What a blessing! However, do you remember what it was like before we enjoyed that blessing of familiarity? Do you remember what it was like as a newcomer? Do you remember what it was like when nothing was comfortable? What might have made that experience just a little easier for you at that stage? What can we do right now that could be a tangible reminder of our baptismal covenant as we welcome people into our communities this year?
Please know of my prayers as we all begin an exciting new year together—it's going to be great! May God continue to strengthen us and guide us as we live into the covenant made at our baptism.
---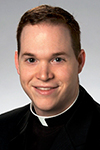 The Rev. David A. Madison, D.Min., is Executive Director of the Southwestern Association of Episcopal Schools. He can be reached at dmadison@swaes.org.