I have been in education for over 30 years. I've been fortunate because I have worked with great students and wonderful colleagues: ambitious, caring, grateful, and generous. To give you an example, at the end of each class my students say, "Thank you." At one point, years ago, when my wife had surgery, colleagues and parents brought meals to the house. So you can say, Where I teach is more than just a school, it is a caring community. We pull together during tough times and we know how to celebrate one another's accomplishments. However, one peculiar thing I notice is that students often go through a phase when they become atheist or agnostic. In matter of fact, they are even proud to announce their new lost faith in God.
I have a number of theories regarding this loss of faith in God. Students have reached an age when they are not sure who they are, so how could they ever come to understand God—a God who is beyond comprehension? This 'loss of faith' or 'newfound doubt' usually emerges around middle school. Middle school, also, happens to be the time when young people realize how complex they are. In addition, they realize their parents aren't perfect; that their friends are not always so loyal. Furthermore, middle school students often experience their first tragedies in life, which also challenge their faith in God. I believe that middle schoolers who go through this phase are exercising their independent thinking—even though their thinking may be somewhat limited by their lack of experience or their false sense of self.
In addition to all of that, this is the age when young people begin to figure out who they truly are—and they try to create an identity. They try on identities like sweatshirts, discarding them in favor of the next fad. However, one's true identity can't be created as the media would lead us to believe. One's true and authentic self is discovered.
It takes time and it requires a journey of discovering God. When we come to discover our true identity, we will often find God in the shadows of our doubt. We will often find God in our ugliness—both physical and spiritual. We will often find God in the space where we admit to ourselves that we are sinners. At that point, that's when we as people—as well as the middle school students I mentioned—find God's grace.
God gives grace freely. We only need to accept it, knowing that there is no motive behind God's actions except for love. When we finally come to truly discover God, then we like the poet of Psalm 111 can say, "Praise the Lord! I will give thanks to the Lord with my whole heart." For anyone who is seeking God, whether a young middle school girl or a middle aged man entering old age, Psalm 111 teaches us who God is.
If we parse out the qualities attributed to God in the psalm, we receive insight into an ever-living, ever-loving God. We discover that all of God's works are great and when we put this into the full context of The Bible, we discover that God is a loving creator, creating humankind in his own image. God shows mercy by freeing the oppressed and then feeding them manna in the wilderness. We even see in the gospels that God releases the demons that hold us captive. God heals and nurtures us. God, even when we disobey his commands, offers us forgiveness and tries to instill in us ever expanding hearts of mercy so that we can forgive others.
When we offer mercy, or manna, to others, we are both discovering God and revealing God to the recipients of our good works. Psalm 111 instructs us that the works of God's hands "are faithful and just." In other words, God's work is congruent with the love embodied in his spirit, and these works are tempered with justice. Jesus Christ—who is God with us—shows us justice throughout the Gospels. If you notice when Jesus is finished teaching in the synagogue in chapter 1 of Mark's Gospel, he doesn't simply retire for the day. No, he puts into practice what he teachers—he frees a man of his demons. Psalm 111 also informs us that God is "ever mindful of his Covenant." This reveals the true nature of God—unconditional love. Even when we fail in holding up our end, God always keeps the Covenant. We can fail at righteousness time and time again—and yet, each time we turn to God with a pure and repentant heart, God stands there accepting us for who we are, warts and all. Jesus Christ, God with us, demonstrates how God has been, and will be, ever mindful of this Covenant. Jesus lives this out when he forgives the adulterous woman, when he accepts Peter even when he denied Jesus in his hour of need, when he forgives the men who nailed him to the cross, and when he welcomes the thief hanging on the cross next to him into paradise. In order to do this, Jesus must have known his own true identity. As a result, we can probably realize that Jesus' identity—his own authentic sense of self—is entwined with the identity of God the Father. That is to what we as Christians aspire.
Psalm 111 supports the entire biography of Jesus as articulated in the four gospels. The psalm teaches us that God "sent redemption to his people" and "has commanded his Covenant forever." We come to know that God is constant and will never turn away from his promise. Finally, it informs us, "Fear of the Lord is the beginning of wisdom; all those who practice it have a good understanding." These final lines of this short poem tell us that we must fear or respect God. However, in order to fear or respect God, we must come to know God personally—this is the beginning of wisdom. We learn that those of us who practice this fear or respect of the Lord will possess good understanding. I think this "good understanding" is the reality of coming to know, understand, and accept our authentic selves—our gifts and our shortcomings; our good works and our sinful nature. We come to a good understanding of ourselves because we also arrive at good understanding of God. We see ourselves for who we truly are, and we realize that God accepts us regardless of our own darkest secrets. That's when we really see how awesome God is.
To return to the middle school students who enter this phase of atheism—when they do talk about what they actually believe in, many of them say they believe in Love. I smile to myself as their chaplain and realize, Yes, they do believe in God. These young people just don't realize they believe in God because they have not come to know that God is love and love is God. Once they gain the wisdom and experience of love with us, then they too will come to see themselves in the light of love. As a result they will discover not only themselves, but will also discover God, waiting there to embrace them at the crossroad of mercy and justice.
---
About the Author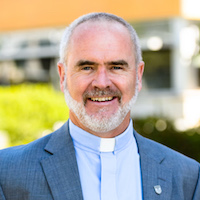 Now Head Chaplain at The Episcopal Academy in Newtown Square, PA, Tim directs the spiritual program and offers pastoral care to the community. He also leads the partnership program for St. Marc's School in Haiti, and has developed a partnership between Episcopal Academy's fifth grade and the fifth grade at St. James School (Philadelphia). In the past, he has held several positions at Episcopal Academy: Media specialist in the library, Dean of Students, Form Dean, English and religion teacher, and Lower School Chaplain.