As we begin another school year, we may tend to over focus on the context of our positions as Chaplains. We may set goals for our curricula, chapel programs, and pastoral ministries, which paradoxically may distract us in our vocations to serve God. However, I offer one simple focus, which may allow us to follow Christ and the Gospel while fulfilling our roles as chaplains. Let's focus on making the stranger our neighbor in all that we do. We can accomplish this by seeking out those we don't know. Many people we don't know may live in the midst of our community. Fortunately, Jesus provides us an excellent example.
Turning to the gospels, Jesus constantly reaches out to people he doesn't know. In matter of fact he calls 12 people he didn't know to become his apostles and empowers them. However, my favorite illustration centers on the woman at the well. They are strangers, but he talks to her anyway and asks her for a cup of water. He actually breaks "the rules" in order to do this. In addition, he removes social barriers between male and female, clean and unclean, and Jew and Samaritan by reaching out to her and reassuring her that she had a gift to give to him just as he had a gift to offer her. He creates a level playing field. Most importantly, he empowers her to proclaim the Good News. We as chaplains can do the same with the students, colleagues, and families we serve. We can open communication by being clear of our purpose as ministers of the gospel, by reaffirming the gifts they offer us, and by accepting them for who they are. In other words, we make the stranger our neighbor by joining and empowering them in their faith journey. Surprisingly, we may discover something new about ourselves in the process.
Also, we don't need to limit making the stranger our neighbor to our schools. Jesus walks beyond his faith community and serves the gentiles. He demonstrates that he is willing to listen to gentiles. He is open to their critique of him. For example, before he heals the daughter of the Syrophoenician woman, Jesus believes his ministry is limited to just the people of Israel. However, she informs him that even "the dogs underneath the table eat the children's crumbs." She challenges his assertion. He listens and adjusts. As a result, by being open to criticism, he is able to make a stranger a neighbor. Therefore, we may need to go beyond our community and serve the unknown. It may be the street person in a soup line. It may be the grandparent of a student in a hospital bed. It may be a religious leader in another denomination or faith that needs our support. Regardless, we may need to open ourselves to new possibilities as Jesus did and serve the stranger among us.
Schools can be data and goal driven. However, as chaplains, we are gospel driven in order to glorify God. In the examples I offered above, we can see that Jesus broke through barriers between male and female, clean and unclean, Jew and gentile. In closing, by making the stranger our neighbor both within and beyond our faith communities, we can live out our vocation in a manner that William Law puts so succinctly, "If we are to follow Christ, then it must be our common way of spending every day."
---
About the Author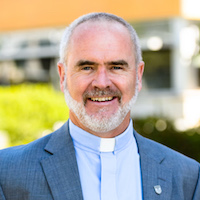 Now Head Chaplain at The Episcopal Academy in Newtown Square, PA, Tim directs the spiritual program and offers pastoral care to the community. He also leads the partnership program for St. Marc's School in Haiti, and has developed a partnership between Episcopal Academy's fifth grade and the fifth grade at St. James School (Philadelphia). In the past, he has held several positions at Episcopal Academy: Media specialist in the library, Dean of Students, Form Dean, English and religion teacher, and Lower School Chaplain.