My blog entry on Mālama was submitted before the 7.8 magnitude earthquake in Nepal was reported on April 25, 2015 and the riots began in Baltimore, Maryland.
As institutions with religious roots in Christianity and as fellow human beings, we are called to look beyond the boundaries of religion, creed, and even race. There are things we cannot ignore when it comes to the issues of justice and righteousness for all of God's people.
In these two very different examples of human tragedy—an earthquake and a riot—the ground of our being shakes. Literally and figuratively. We wrestle with questions of destruction, of homelessness, poverty, and racial inequities. These are things that exist everywhere, even here in the beautiful Aloha State where homelessness has increased 35% since 2009 with more than 4,900 homeless individuals and families with children out of which it is estimated that 40% live on the streets. Such numbers are a sin and the Christian community should be outraged. Hawaii is not alone. As we look to our own communities, where is our poverty hidden (or not so hidden?)
In Nepal, homelessness is a new reality for thousands. Their livelihoods, their businesses have been lost or disrupted; family lives impacted by grief, uncertainly, and loss. Is it safer to live in a tent or in what was once your home? Many have been sent to live in parks and open fields. Immediate survival needs are being addressed- shelter, food, water, sanitation. What about faith? Prayer? We have seen from the news, the Buddhist and Hindu temples destroyed or deemed unsafe—craftsmanship, cultural icons, and statues of the Buddha or Hindu gods that have stood for hundreds of years have been heavily damaged or destroyed. Funeral pyres cremate the remains of the dead. May they rest in peace.
What can we do? Certainly, we can pray. How can our children that come through our classrooms and our schools be a part of the solution? Being where we are, we can only do so much, but being where we are in a nation of relative affluence means we can also do so much. Many NAES schools are formulating responses to the humanitarian crisis with fundraisers and drives. As recovery efforts continue and as needs reveal themselves down the road, I am certain we will see ongoing efforts to support recovery.
The issues of poverty and race in our own communities require us to look more deeply at our human connectedness. To take seriously what we believe when it comes to teaching our children that we are created in God's image—that we bear the light and love of God in each of us, means we must help them to live into the values of the Kingdom. A way of living that is rooted in God's love and justice. A Way that never easy, Jesus never said it was.
Baltimore. Kathmandu, Nepal. These two areas and conditions could not be more different and yet cannot help but share the same humanity. More than ever, we are called to care for people. God's people. We are called to mālama.
---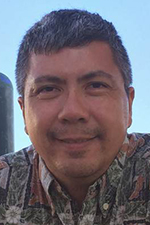 The Rev. Daniel L. Leatherman is Chaplain at the ʻIolani School in Honolulu, Hawaiʻi. Founded in 1863 by King Kamehameha IV and Queen Emma of Hawaii, ʻIolani School serves 1,887 students in grades K–12.