During our Opening Day of the School Year (Monday, August 12th), I participated in convocation ceremonies at all three of our campuses. Given the distance between campuses, it is a bit of a scramble making on time everywhere, but it provides a fantastic way to see our school. Just after noon, I spoke as part of our Collierville Campus Convocation for grades 6 – 12. Joined by many parents and the faculty, I had good opportunity to bring our focus to the most important potential of a vital learning community—particularly perhaps a learning community at an Episcopal School.
The reading preceding my homily came from Romans 12: 1 – 5 ( my reflection follows):
Therefore, I urge you, brothers and sisters, in view of God's mercy, to offer your bodies as a living sacrifice, holy and pleasing to God—this is your true and proper worship. 2 Do not conform to the pattern of this world, but be transformed by the renewing of your mind. Then you will be able to test and approve what God's will is—his good, pleasing and perfect will.3 For by the grace given me I say to every one of you: Do not think of yourself more highly than you ought, but rather think of yourself with sober judgment, in accordance with the faith God has distributed to each of you. 4 For just as each of us has one body with many members, and these members do not all have the same function, 5 so in Christ we, though many, form one body, and each member belongs to all the others.
Welcome to the 2019-2020 school year. A particular welcome to the amazing Class of 2020, as well as our sixth graders just joining us for the first time on this campus.
Hear the last part of today's reading from Romans again: "we, though many, form one body, and each member belongs to all the others." I am particularly drawn to the idea that we belong to each other. What was the apostle Paul trying to teach the early church and how is it relevant to us in 2019? What does belonging to each other even mean?
In preparing to speak to you today, I reread what I have said before at this moment of return, of coming back together, or for some of you of arriving for the first time. And I realized my central thought is unchanged, if perhaps increasingly urgent. I have even used this particular scripture before. What encases what I have to say may change but the idea is the same, and at its heart is this, in order to prepare you for the world, in order to serve you and serve the mission of this school, we need to strive to create a community that rises above the conflict that defines too much of the world around us. We need to model what the world should look like. In order to do this, we must be willing to be transformed by the people around us, and we must be willing to help transform the communities we inhabit. You, each one of you is important, and we are grateful that you are here. Each one of us has it within us to make a positive difference in the lives of members of our school community and in the community surrounding us in Memphis, Shelby County, and beyond.
I hope that thinking for a minute about what its mean to "belong to each other" will reveal it is closely linked to the purpose of your education as a whole.
Being here, being in a school where you are challenged, known, and cared for is a gift. In fact, it is on the short list (right beside love of family and good health) of the greatest gifts we might ever receive. Our education is indeed ours–no one can take it away once we have it. It goes with us even if we lose everything else. It guides us and prepares us for what is ahead. So…it is ours. It is about us.
But it is also not about us—this is the part that has the most relevance to us belonging to each other. Most interestingly perhaps, our education exists only as we make meaning from it and as we are moved toward action in the world as a result of it. I have some questions for all of us who have had the privilege of an education such as the one at SGIS–
What will we make happen at St. George's and beyond as a result of our education?
How can we use our education to impact the school and the communities where we will serve and lead?
How can we make our education not simply about us? Or how can we through action demonstrate that we belong to each other?
How can we continue to learn from people who have different backgrounds and different opinions in our school and in the community?
How do our actions reveal that our fates are intertwined?
Your education, as well as the benefits of being part of a community such as this, only truly take shape when we share its benefits with others both at school and far beyond it.
The school year to come is yours to make and it is ours to make. We are mutually dependent; we are responsible for each other; we show up for each other; we greet each other; we celebrate each other; we sacrifice for each other; we serve each other. Please let us be better because of each other. Please let our understanding that we belong to each other make this a great year to be an SGIS Gryphon. And finally,
Let us put into action these words from our school prayer: "teach us to see your presence in those who are around us, and teach us to serve you by serving them."
Let's make this year great!
---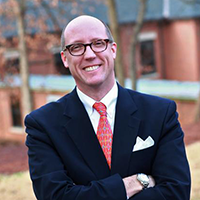 About the Author
J. Ross Peters serves as Head of St. George's Independent School in Memphis, Tennessee. Before coming to St. George's, he was Head of Upper School at The Westminster Schools in Atlanta, Georgia. He has also served as Upper School Director at Hawken School in Cleveland, Ohio and as Assistant Head for Academic Affairs at Asheville School in Asheville, North Carolina. He holds a B.A. from The University of the South and an M.Ed. from the University of Georgia. Read more on Ross' blog at www.jrosspeters.com.