As I commented to the parents of Saint Mary's School a few weeks ago, this time of year is all about preparation. There's shopping, cooking, packing, wrapping, writing, singing, decorating, calling, cleaning, visiting, and baking. If you're somehow involved in the school community, add more performances, exam writing, exam taking, studying, grading, and more to the ever-growing list. All this preparation, and all this talk about preparation, is in many ways well placed for a number of reasons. Few things happen overnight. Learning how to prepare for a big task by breaking it down in to small steps is an invaluable life skill that we hope to teach the young people in our care.
At the same time, there are limits. We're people, all of us, students, faculty, staff, chaplains, parents, board members, and alumni alike. We're human. I've served at an all-girls high school since 2009. The extremely high standards to which many women and girls struggle to uphold breaks my heart sometimes.
Once, while I was visiting in the United Kingdom, I met someone who was kind enough to invite me into her home for a cup of tea. Her house was not….orderly, shall we say. Piles of papers and stacks of dishes were everywhere. This did not faze my host in the least. She cleared a spot on the couch for me, and we had a sweet conversation. Though she wasn't what I would describe as "ready," though she wasn't prepared by my definition, she let me in anyhow.
Sometimes whatever we've been preparing for comes, and we're not quite ready. The cards haven't been sent, we're not making it to all the relatives' houses for all the special meals, the gift for so-and-so doesn't feel quite right, we haven't been somehow making room in our inner selves, whether we observe Hanukkah, Christmas, Kwanzaa, Bodhi Day in January, or some combination thereof. In a secular culture that is always pushing us to do more, to measure our worth by how much we're able to accomplish or buy, where being busy has somehow been turned into a virtue, where we reward those who can function on less sleep, I invite you to consider that grace may be extended even if, or maybe particularly when, we aren't ready.
I really like this prayer from the Night Prayer service in A New Zealand Prayer Book (p. 184):
Lord, it is night.
The night is for stillness. Let us be still in the presence of God.
It is night after a long day. What has been done has been done;
what has not been done has not been done; let it be.
The night is dark. Let our fears of the darkness of the
world and of our own lives rest in you.
The night is quiet. Let the quietness of your peace enfold us,
all dear to us, all who have no peace.
The night heralds the dawn.
Let us look expectantly to a new day, new joys, new possibilities.
In your name we pray. Amen.
What would happen if we let grace in, whether or not we think ourselves prepared?
---
About the Author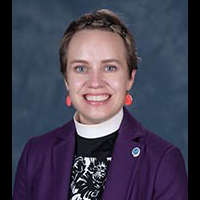 The Rev. Ann Bonner-Stewart serves as Chaplain at St. Mary's School, an all girls Episcopal boarding and day high school in Raleigh, North Carolina. During her time, she has developed and taught new junior-senior religion seminars, including an online summer world religions class, proposed and initiated an all tenth grade urban immersion service experience, and capitalized on the school's Episcopal identity to address issues including organ donation, racial privilege, AIDS, the Holocaust, and able-bodiedness, to name but a few.