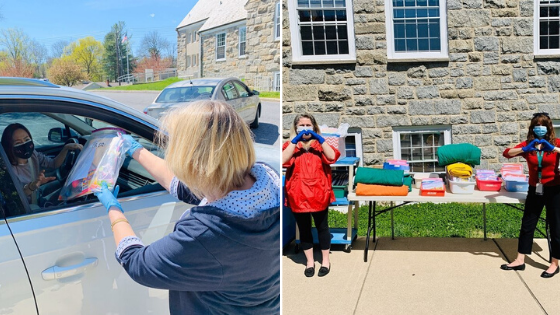 On Monday, April 6th, St. John's Parish Day School held a drive-thru for parents to collect additional learning materials that will continue to keep students productive while they are away from school. The learning packets not only included workbooks, projects, and supplies but also blank thank you cards and Easter treats. St. John's included the thank you cards for children to write notes of appreciation to first responders and family members. Encouraging the spirit of gratitude in the children especially towards essential workers who tirelessly offer themselves in ensuring our safety as a community.
On March 16th, St. John's immediately transitioned to their Distance Learning Program following the Governor's recommendations. They initially gave physical materials to supplement their ongoing online learning for the first two weeks. As the campus closure extended by one month, they decided to use the familiar take-out service to give families more resources for continued learning. A small group of hard-working faculty and staff assembled and distributed the materials while wearing gloves, masks and practicing social distancing. Parents dropped by the vibrant campus at designated times and promptly received their materials. With some families not able to make the drive-thru, St. John's was very accommodating and willing to schedule another pick-up time for those who had schedule conflicts. They also delivered learning materials to the homes of families that could not attend. Doing their best to ensure that each child's continued learning is cared for.
For their efforts, St. John's received many thank you messages from parents. One parent commented on the school's Instagram post saying "This meant the world to our three-year-old. He knows everything from his packet came directly from his teacher and he treats it like gold. St. John's has been amazing through this. Thank you."
This is a new time in learning for everyone. St. John's continues to engage students, inspire learning and provide the connection to friends and teachers that is so important during this time of social distancing. Even when apart, their sense of community thrives.