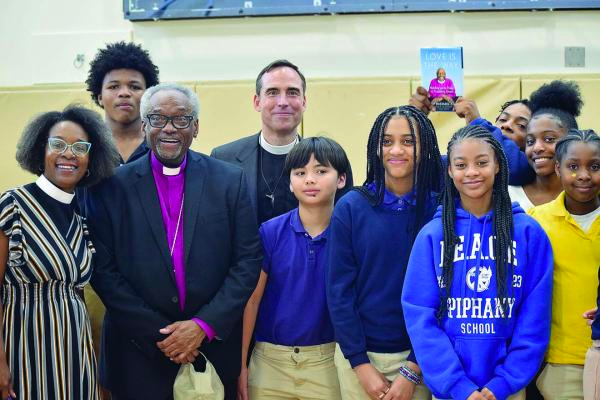 From left, Rev. Canon Stephanie Spellers, Elias, Bishop Michael Curry, Rev. John Finley, Leo, Genesis, Isabella, Jonathan, Zackia, and Ilah.
Epiphany normally gathers for Eucharist on Wednesday afternoons, but on April 14th we made an exception and moved the service to Friday to welcome a very special guest, the Most Reverend Michael B. Curry.
As the first African-American Presiding Bishop, Bishop Curry is a particularly inspiring role model for the children in our school community. His homily was warm and playful, and the students were proud to have the opportunity to worship with Bishop Curry and his friends, Sharon Jones and the Rev. Canon Stephanie Spellers, as well as our bishop, the Rt. Rev. Alan Gates. Many of our friends and supporters from various parishes also joined in the celebration.
After the service, Bishop Curry patiently signed copies of his book, The Power of Love, and then joined our Head of School, Rev. John H. Finley IV, and The Rt. Rev. Alan M. Gates, Bishop of Massachusetts, for a tour of our Middle School and Early Learning Center, as well as our Green Club's spring garden. Finally, Bishop Curry stopped for refreshments in our Greenhouse and met with a number of Epiphany graduates.
We are so grateful to have had the opportunity to introduce him to Epiphany. It was truly a wonderful day!