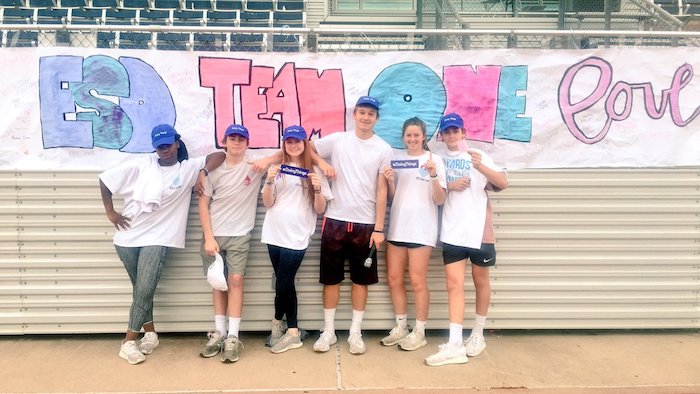 ESD's Team OneLove, a group of Upper School students dedicated to raising awareness about domestic violence, hosted a "Yards for Yeardley" Walk to End Relationship Abuse. The "Yards for Yeardley" project is an extension of the OneLove Foundation, which was founded by Sharon Love, mother to UVA lacrosse player Yeardley Love, who was killed by her ex-boyfriend just weeks before graduation.
Every year during the spring semester, ESD juniors go through the OneLove Foundation's Escalation workshop that begins discussions amongst the students about recognizing healthy and unhealthy relationship behaviors. This year, juniors Jay Browne and Story Langston, student ambassadors for the OneLove Foundation, decided they wanted to start the discussion sooner and spread even more awareness through organizing this walk.
"Our club lacrosse coach was a close friend of Yeardley and is very passionate about this foundation, so we wanted to help her make it more prominent in the North Texas area," explains Browne. "Since it's our first year doing this event, we made our goal 100,000 yards because we wanted an attainable number we could reach and hopefully exceed it."
And exceed it, they did. Though the student-organized walk had only aimed to reach 100,000 yards in support of the "Yards for Yeardley" project, with over 250 participants showing up to support, community members walked a total of 700,000 yards and raised $2,000 for the OneLove Foundation.
With such a successful first event, the positive impact made by these students in the community was palpable and can only continue to grow as they work towards their next goal.