Where I live there is a traffic light at a busy intersection. A "No Turn on Red" sign is posted. The sign looms large. In addition to that sign, there are two smaller signs, which qualify the "no turn on red." One sign says, "Between 7 to 9 am and 4 to 6 pm." The second sign states, "Monday through Friday." Each time I approach the intersection, I am usually driving outside of the hours of the school day. Inevitably the driver who is in the lead position sits, waiting for the light to turn green. Sometimes, I often wonder to myself, "Why doesn't this driver see the other signs." I feel like beeping my horn and yelling out my window, "Read the other signs." I don't. I take the extra time to say a prayer or to review what I need to do once I arrive at my destination.
This little driving annoyance of not seeing signs made me ask, "What signs do I miss as a chaplain in the context of my ministry at an inclusive Christian school?" I see one large sign of our Christian heritage and it adorns the steeple of our chapel. The cross. Do I see the cross and feel that is the sign that marks our Christian nature, our Christian identity? Do I over rely on that sign to speak on my behalf, stating we are a Christian school simply because we have a cross on our chapel? Do I become lost in the sign of the cross and miss the other signs of our Christian life? I realize that there must be more than the cross that signifies our living into the Gospel. What is the cross pointing to and I ask the same of myself?
Oftentimes, I don't read the signs around me of what is truly happening with students, teachers, administrators or parents. Oftentimes, I miss seeing signs of God's work in the community or I miss opportunities to help the various constituents see the signs of God's work in our community. Sometimes, I fail to connect the signs of what we do in a gospel-context with the day to day routine of school life.
Each year, usually around February, I tend to enter a funk and start to feel that what I do is pointless. It's not exactly an existential crisis. However, I second guess myself. At times, I don't feel I have my finger on the pulse of the community. I ask myself, "What good do I do here?" I think this so-called funk is not all bad. Usually, I try to pray harder, to discern some big questions such as Why do I do what I do? Does God want me here? How am I advancing the Gospel? Where is Jesus? Am I making the connection between our Christian name and the Gospel precepts? Am I living into the vows of priesthood? How intentional am I being with regards to glorifying God? Answering these questions requires a process of reflection, soul searching, and deep discernment. At the beginning of this process, I answer many of these questions in the negative. I get down on myself. I think that I would be more effective somewhere else. I feel like a failure. I start to think There are excellent schools across the country that do not have chaplains or chapel programs or religious studies. The Episcopal Academy has been around since 1785 and will live on no matter what.
Then I realize I am missing the signs. I see that as an Episcopal priest who serves as chaplain at an Episcopal school, I have many opportunities to connect the gospel and the day to day rhythms of school life. I start looking for the smaller signs of this reality. First of all, the one thing that makes The Episcopal Academy unique from all other schools in the Philadelphia area is that we worship together every other day. Furthermore, we teach biblical literature, ethics, world religions. We have chaplains who visit the sick, baptize new members of the church, marry couples in love, and bury our dead. We hold Eucharist services that are voluntary and well attended. We serve the marginalized locally and internationally. These are the signs of an Episcopal school living into the Gospel of Jesus Christ. These are the signs of living into our ministry as chaplains at an Episcopal school. These are the signs we may take for granted. These are the signs that often become lost to our view. These are the signs we see and don't give them much thought – much like the driver sitting at a stop light that says "No Turn on Red." They see the one sign informing them not to proceed and neglect to look for other signs that may shed more meaning on the primary sign.
We all know that holding chapel services, teaching religious studies, and offering service to the marginalized can become mechanical acts that we check off our to do list. If we don't discern why we do these important parts of our ministry, then we are just going through the motions. We are called to put the meaning of the Gospel into these actions. However, we need to look for other signs that reinforce that this is God's work in this world. We need to see and recognize the signs of a lower school student on the playground swing singing, "Peace Like a River" because she is still in "chapel mode." We need to see and recognize the sign of a group of upper school boys debating at a lunch table if The Bible is meant to be read literally or figurately. We need to see and recognize the soccer team wanting to do a community service activity because the players realize they are part of something bigger than themselves. We need to see and recognize individual students willing to run for vestry, which requires them to read a statement of faith before 550 of their peers. We need to recognize parents who schedule a meeting with us to request baptism for their children. As chaplains we need to connect these signs to the larger sign of the Gospel of Jesus Christ.
I have discovered by the time the school year lands on February, I need to take a step back to have a bird's eye view of what we do as an Episcopal school. I realize that I can't sit at my desk and toil and muddle about living into the priesthood as a chaplain. In other words, I can't sit at the traffic light and recognize the obvious sign. I must look at the subtle and not so subtle signs that God's ministry is being made effective in the community. At the end of the day, I look at the cross adorning our chapel and realize that the cross is pointing to something greater than itself, and, as chaplain of an Episcopal school, I should go and do likewise.
---
About the Author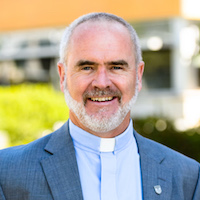 Now Head Chaplain at The Episcopal Academy in Newtown Square, PA, Tim directs the spiritual program and offers pastoral care to the community. He also leads the partnership program for St. Marc's School in Haiti, and has developed a partnership between Episcopal Academy's fifth grade and the fifth grade at St. James School (Philadelphia). In the past, he has held several positions at Episcopal Academy: Media specialist in the library, Dean of Students, Form Dean, English and religion teacher, and Lower School Chaplain.