A quick look at the Spiritual Life page on our school's website will give one an idea about life at St. Catherine's School. Even though one of our divisional chapels takes place daily, I am learning to see beyond the surface to access what is actually occurring.
The website states:
Chapel services are a significant part of our community life at St. Catherine's. We gather for chapel based on our division on a regular basis to celebrate the church, the world around us, as well as special events in the life of the School. We follow the Episcopal tradition that welcomes voices from diverse religious traditions.
What does it mean to "celebrate the church, the world around us, … as well as special events in the life of our school?" In the dailiness of our lives it is easy to shift to a worship routine as opposed to being fully engaged in worship.
My hope is that our school reminds those in attendance at chapel of the unconditional love of God present each day. Whether through song, homily, senior chapel talk, or even the celebration of Earth Day, my prayer as chaplain is that all in attendance may receive a reminder that the God of the universe cares. God's care is a reality that merits a celebratory response. The youngest to the oldest person in our school community benefits from being reminded of God's love.
No matter how many times I may sing a song of the saints of God, I continue to be amazed regarding the timelessness of God's love that knows no boundaries. The news of God's love is indeed good news. The fact that we are set apart to carry this message is a gift. May we never lose sight, inside the ordinary schedule, that the realities of this gift are truly extraordinary.
---
About the Author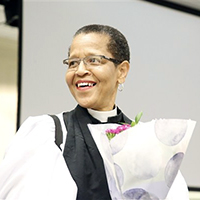 The Rev. Dr. Dorothy White received her Bachelor of Arts degree in Sociology from the University of Tennessee at Knoxville. She went on to earn a Master of Arts in Theology and Historical Studies from Oral Roberts University ("ORU") in Tulsa, Oklahoma, and a Doctor of Ministry degree from the Samuel Dewitt Proctor School of Theology at Virginia Union University in Richmond. Dorothy serves full-time as the School Chaplain at St. Catherine's Episcopal School in Richmond, where she teaches in the Religion and Philosophy Departments in the Upper School.