Recently in our community—in fact, just about a week after the start of classes—we lost a fourth-grader in an automobile accident. Such an unimaginable tragedy is, unfortunately, one that many of us have lived through in the lives of our schools. It brings to the surface everything that we claim to be important in our faith and in our schools, confronting us with the most raw emotions, the most difficult questions, the most heart-rending scenes we will ever face as educators.
There is no right answer to the questions that our students and faculty—and we, ourselves—will ask in the wake of such events. But there is a grace-filled response—girding ourselves with Divine Love and allowing that Love to be manifest in our lives and the lives of all those touched by tragedy. In our response, we can make it plain that we don't believe in a God who wills the death of any child, but that we live in a world in which the possibility of tragedy exists. We can say that God doesn't use events like these merely to test our faith or to make a point, that we are not simply actors on the stage of life. We can give ourselves permission to feel what we are feeling, whether that is anger, frustration, confusion, emptiness, or fear.
Indeed, perhaps more than anything, we can give our communities permission to grieve, a permission that platitudinous religion often denies. We can say, in the same breath, that these tragedies are deep wounds and yet that God is right in the middle of our grief, touching its raw face, empathizing with us in the trauma and abandonment we feel. We can say that God's own life in Jesus Christ reveals God's identification with those who grieve in the face of incomparable loss—that we cannot go around the immense obstacle of our grief, but that with God's help and the help of one another, we will go through it, together.
A grief of this magnitude reveals love, even as it rips off the surface personas we all wear. In our grief, we see just how much we love the child who is lost to us; and how much we love those who remain, our families, our sisters and brothers, our children, our parents, our friends, and our school communities. In the economy of God's grace, we pray that, even in the middle of overwhelming grief, this kind of love changes us, changes our families, and changes the communities we serve.
---
About the Author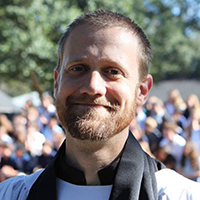 Dr. Andrew Armond is the Upper and Middle School Chaplain at 
Episcopal School of Acadiana
, a PK3-12 school in Lafayette, Louisiana, where he teaches 8th grade religion, world religions, philosophy, and Dante. He is a former English professor, now a candidate for Holy Orders in the Episcopal Church, to be ordained in December, 2019. Andrew can be reached by email at
aarmond@esacadiana.com
.