When my Head of School colleagues from around the country heard I was moving to the Episcopal Academy two years ago, they congratulated me of course, and many of them made a passing comment about how much I would enjoy working at an Episcopal school. When I asked a few of them why they felt that way, they just smiled as if to say, "wait and see." They explained thoughtfully that having a core set of beliefs and a sacred place to gather would provide a wonderful foundation for character development. They all concluded with some version of, "And if you ever have to deal with something tragic, you will truly appreciate the spiritual aspect of an Episcopal school."
Well, it did not take long into my first year to understand the true impact. I often ask my seniors what differentiates our school from those their friends attend. The chapel program is the first thing they mention. For some it is the religious nature of our services, and for many it is the opportunity to hear from other members of our community who share deep and often very personal reflections on their lives and what matters to them. The quiet moments in chapel provide us all with the time and space to reflect on how we can be our best selves. It is clear to me that our emphasis on character development is a direct result of our spiritual foundation.
Unfortunately last year, I had the opportunity to witness the power of the Episcopal community in the midst of tragedy. Shortly after graduation, one of our young girls was hit by a truck while jogging up at college and later died from the injuries. There is no other way to describe the impact of this event other than "completely devastating." When the news broke, students, parents, and teachers stopped their summer vacations and immediately headed to our chapel to seek the comfort of loved ones. A few weeks later, when she passed, we held a deeply moving service on campus for thousands of people who came to seek solace and pay their respects. It was a sad and beautifully poignant. Unfortunately, we have too much experience with tragedy.
My colleagues were right. I am deeply grateful for the spiritual power of our community that guides us each day and gives us the strength when we are weakened with grief. I know now what I did not know then.
---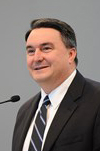 T.J. Locke is the Greville Haslam Head of School at the Episcopal Academy, Newtown Square, Pennsylvania.