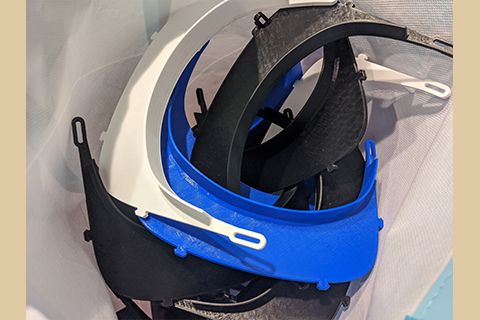 Students and faculty from both creative sciences and costume design are teaming up – remotely – to make 3D printed visors, laser-cut face shields, and hand-sewn face masks to donate to Scripps Mercy Hospital in Chula Vista and UC San Diego Hospital.
It all started with a friendly conversation. Visual arts teacher Emily Grenader's neighbor is a nurse who shared not only the need for more personal protective equipment (PPE), but also a company website that is offering their design and instructions and registering volunteers to help coordinate donations.
With 3D printers sitting idle on campus and in the homes of Bishop's Maker Club sophomores Stanley Wei, Ryland Birchmeier and Michael Zeng, mathematics and creative sciences teacher Jennifer Seymour registered with the company, ordered supplies and set the process in motion. Meanwhile, costume design teacher Jean Moroney, middle school administrative assistant Cora Lautanen and Paige Walker '22 are sewing face masks, to be included with the face shields in kits for local distribution. Creative Sciences faculty donated their supply of protective eye goggles to Ms. Grenader's neighbor.
The plastic visors each take about an hour and a half to print, while the clear plastic face shields take a minute apiece on the laser cutter. Working alone in the Wheeler Bailey building where the School's Center for Creative Sciences is located, Ms. Seymour adds, "The goal is to keep everything as sterile as possible. I'm not touching anything – I use pliers to remove the visors from the print bed and put them directly into a Ziploc bag, and I wear gloves while doing the laser cutting of the plastic shields. Once I have the elastic and foam parts for full assembly, I'll work in Wheeler Bailey under similar as-sterile-as-possible conditions."
Although the fabric face masks are considered a last resort, it's conceivable that many hospitals may ultimately find themselves in a last-resort scenario. Ms. Seymour explains, "Everything we're doing is a last-resort backup. N95 masks and real medical protective gear are still the number-one priority, but hopefully these shields can fill a gap as the real medical supplies start to run out. If nurses and doctors are re-using N95 masks, then layering a fabric mask and a plastic face shield can help extend the life of the N95 mask."
Ms. Moroney researched fabrics and liners, learning which have a tighter weave, and how cut-to-fit coffee filters and twist ties can be incorporated into the design to enhance the efficacy and fit of the masks.
Ryland says, "3D printing and CAD are probably my biggest pastimes right now. It's fun to be able to help other people with something I do for fun anyway. I suddenly see many more uses for 3D printing now which can help other people and that makes me very happy." As of Wednesday evening, he had printed more than 25 visors and was still going strong. The group hopes to make 60 to 80 kits total.
Michael reports, "It feels great to be able to do something as simple as 3D printing to help with the COVID-19 situation. I think it's really important for everybody to find these small ways to help and invite others to join—you can really make an impact."
Printing at home still involves safe clean conditions. "I always wear gloves while working with my 3D printer or any 3D printed parts and make sure to sanitize my printer and workspace regularly," says Stanley.
The boys feel proud to contribute to the project. Stanley concludes, "I think the biggest takeaway from this is that there's always something that can be done about the situation. It's easy to fall into the trap of thinking that there's nothing that can be done or that it's 'someone else's problem,' but COVID-19 is everyone's problem, and it's everyone's duty to help the response effort in any way they can, big or small."