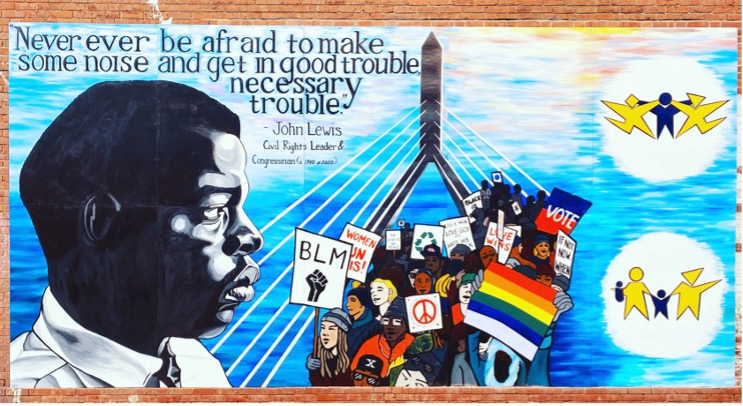 EUSA's support of our Religion & Social Justice Programming has made a huge impact during this challenging year. Whether remote, hybrid, or in-person, this school year, we have provided our students with a well-rounded education, including religious instruction and plenty of opportunities to explore social justice issues. For example, our 6th graders have been learning about Jesus' early life and analyzing his major teachings and building on that to explore healthy identities and relationships. Our 7th graders, meanwhile, have been studying world religions, and our 8th graders have explored a variety of social justice issues, culminating in a personal exploration of a single topic that is important to them.
In light of COVID, teachers have had to be creative to keep students engaged and excited. For example, in our 7th grade World Religions class, typically each year students take field trips to different religious communities around Boston to learn about Judaism, Islam, Hinduism, and Buddhism. In lieu of field trips this year, we have had guest speakers join us over Zoom to lead discussions about different religions. For instance, a leader from a nearby Hindu temple joined our class to teach students about Hinduism and answer any questions. In addition, we have also worked with Kids for Peace Boston, an interfaith youth leadership organization that creates opportunities for young people to build relationships across faith and other boundaries and become ambassadors for peaceful co-existence. Kids for Peace has done sessions for our students over Zoom, going through objects from different religions, inviting our students to reflect on their own beliefs and work toward acceptance of difference and peace. They have also provided opportunities for our students to join their program over the weekends. Further, students have looked at current events like the recent rise in anti-Semitism in the U.S. Students studied how and why this anti-Semitism exists, why it is wrong, and what they can do to combat hateful stereotypes and prejudice. Overall, students have been very curious and engaged during religion classes this year.
As with many events this year, our annual Black History Showcase during Black History Month pivoted to a virtual format. The event featured student performances and art inspired by aspects of Black history and the Black experience in America. Highlights included a performance by Boston's Poet Laureate, Porsha Olayiwola, and guest appearances from graduates: Dario Brandao '18, Jaden Pontes '15, and Kate Cabrera '17. We loved the 6th grade Cooking & Gardening Club's watercolors and detailed painted flowerpots inspired by famous Black chefs and farmers, and it was amazing to see our 8th graders showcase their fashion skills with their apron projects depicting Black historical figures, followed by the Theater electives' reenactments of famous Black leaders. Every performance, piece of art, and presentation invited students and staff alike to reflect on the impact and importance of Black history and culture in our community.
Finally, in March 2021, we celebrated the unveiling of "March On," a new mural (pictured above) by our own Lead Teacher, Ryan Jones. Mr. Jones's inspirations for the mural were Representative John Lewis's legacy, the continued struggle for civil rights and equality, and the devastating loss of the Roxbury Love mural earlier this year. His goal was to create a depiction of "[Rep. John Lewis'] march over the Selma Bridge with a Boston twist." The mural is on permanent display outside the entrance to the Early Learning Center and demonstrates a core value of Epiphany: representation matters. Teaching students about the impact all of us can have is a central part of our educational practice. We hope this new mural will allow our students to see that they are the next generation's leaders, change-makers, and problem-solvers of the injustices that plague our society, and that the mural will remain a cultural landmark for many years to come. Mr. Jones has been honored as a "Hero Among Us" at a recent Celtics game, and his work has been covered in both the Dorchester Reporter and the Boston Globe.
With NAES help, all students have access to well-rounded education that prepares them to have empathy, compassion, and understanding for others. Thank you!