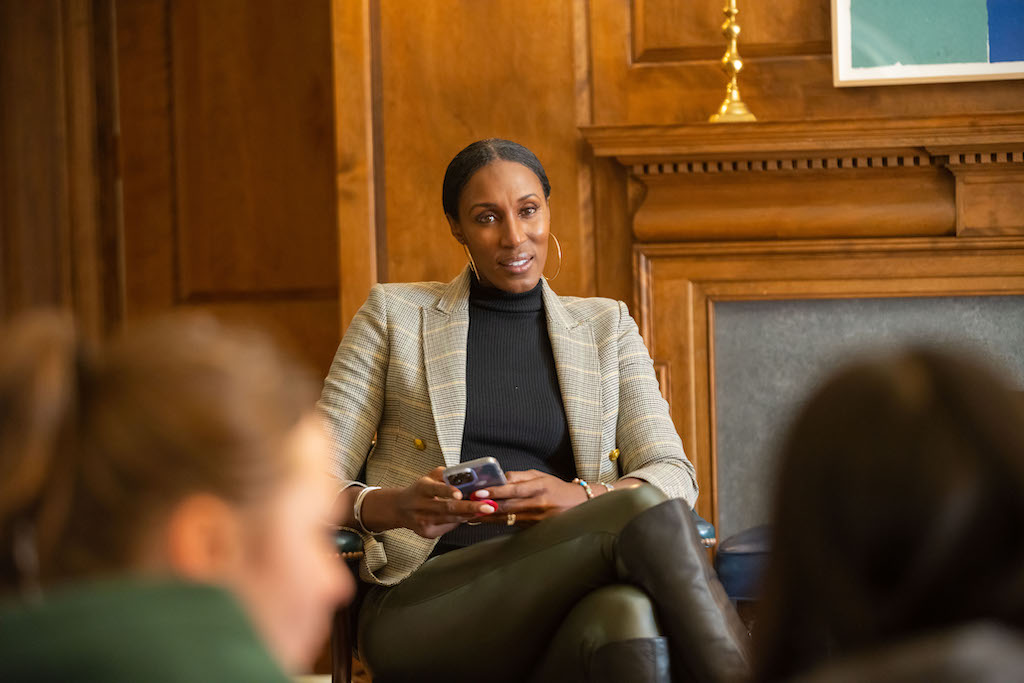 Excitement was palpable in the hours before Women's National Basketball Association (WNBA) legend Lisa Leslie arrived on Chatham Hall's campus on Oct. 18. Students lingered at the entrance, hoping to catch a glimpse of her.
"I've never been so excited to meet anyone in my life," said Hadley Busbee, Class of 2024. "She's been my idol for a long time."
As the school's 2022-2023 Polly Wheeler Guth '44 Leader in Residence, Leslie's visit included opportunities for all community members to speak with and even enjoy meals with her. In addition to large and small gatherings, Leslie also took a student-led tour of campus, gave an interview to members of The Columns student newspaper, and had a chance to meet with the Black Student Union (BSU).
Leslie chatted with student-athletes in an afternoon session, and shared a memory of a difficult moment in her high school basketball career.
"You as young women are going to learn the most about yourselves through sports," she told them. "It's easy to cheer when everything is going well but you really need to check in with yourself when it's not. Life is about how you recover, and challenging yourself in tough moments. These are going to be moments that will help you build the woman you want to become. Whether it's grades or relationships, whatever it is, these are the building blocks."
Known around the world for her basketball skills, Leslie was the first WNBA player to win the regular season MVP, the All-Star Game MVP, and the playoff MVP in the same season (2001). That year she also led the Los Angeles Sparks to their first WNBA Championship and the next became the WNBA all-time leading scorer, was named MVP of the regular season for the second year in a row in leading the Sparks to their first back-to-back championship, and shocked the world with the first slam-dunk in WNBA history. Leslie would go on to win her third MVP trophy of the WNBA in 2006. As part of Team USA in 1996, 2000, 2004, and 2008, she became the first team sport athlete to win four consecutive Olympic Gold Medals. In 2015, she was inducted into both the Naismith Memorial Basketball Hall of Fame and the Women's Basketball Hall of Fame.
Off the court, Leslie has achieved similarly high levels of success. Leslie authored Don't Let the Lipstick Fool You in 2008, and in 2010 became the first WNBA player turned co-owner (Los Angeles Sparks). In 2012, she received her master's degree in business administration from the University of Phoenix as well as launched the Lisa Leslie Basketball & Leadership Academy. She became a commentator for ESPN in 2004, and has since been an in-studio sports analyst for ABC, Turner, Fox Sports Net, Fox Florida, and NBC. She is currently a co-host of CBS Sports' We Need To Talk, and the reigning Coach of the Year of the BIG3. Leslie also starred in the Lionsgate film Uncle Drew alongside NBA superstar Kyrie Irving and NBA legends Shaquille O'Neal and Reggie Miller, released in June 2018.
"She has achieved so much and to be able to learn more about her process was great" said Mary Blair Tankard, Class of 2025. "I wanted to learn more about what she knew she liked and what she wanted to do with it all."
Leslie addressed her many achievements while speaking to students, giving them an important reminder.
"As young women, it's important to realize you don't have to be just one thing, or fit in just one box. You don't have to carry just that label. I just want to remind you that you don't have to choose just one thing," she said. "You can be many things. Don't let labels define who you are and don't let society tell you who you have to be."
The message resonated with students.
"Meeting her and seeing her confidence, it really shows me that I am capable of doing just as much as she has done and that I shouldn't be scared to step outside of my comfort zone and try new things," said Ana Charwa, Class of 2026.
The Polly Wheeler Guth '44 Leader in Residence is an endowed program that brings an internationally-known female leader to Chatham Hall each academic year. These leaders spend two days on campus working with students, as well as deliver an evening keynote address to the school community.
"Someone as talented as Lisa Leslie, who has undertaken so much in so many areas, is exactly the kind of leader we want our students to be able to not just meet but interact with and learn from," said Dean of Academics Martha Griswold. "Our Guth Leader in Residence program allows our students to really find out what drives world-renowned female leaders and what their journeys have looked like. Providing them with such opportunities to envision their own lives and their own paths is an amazing gift from Chatham Hall."