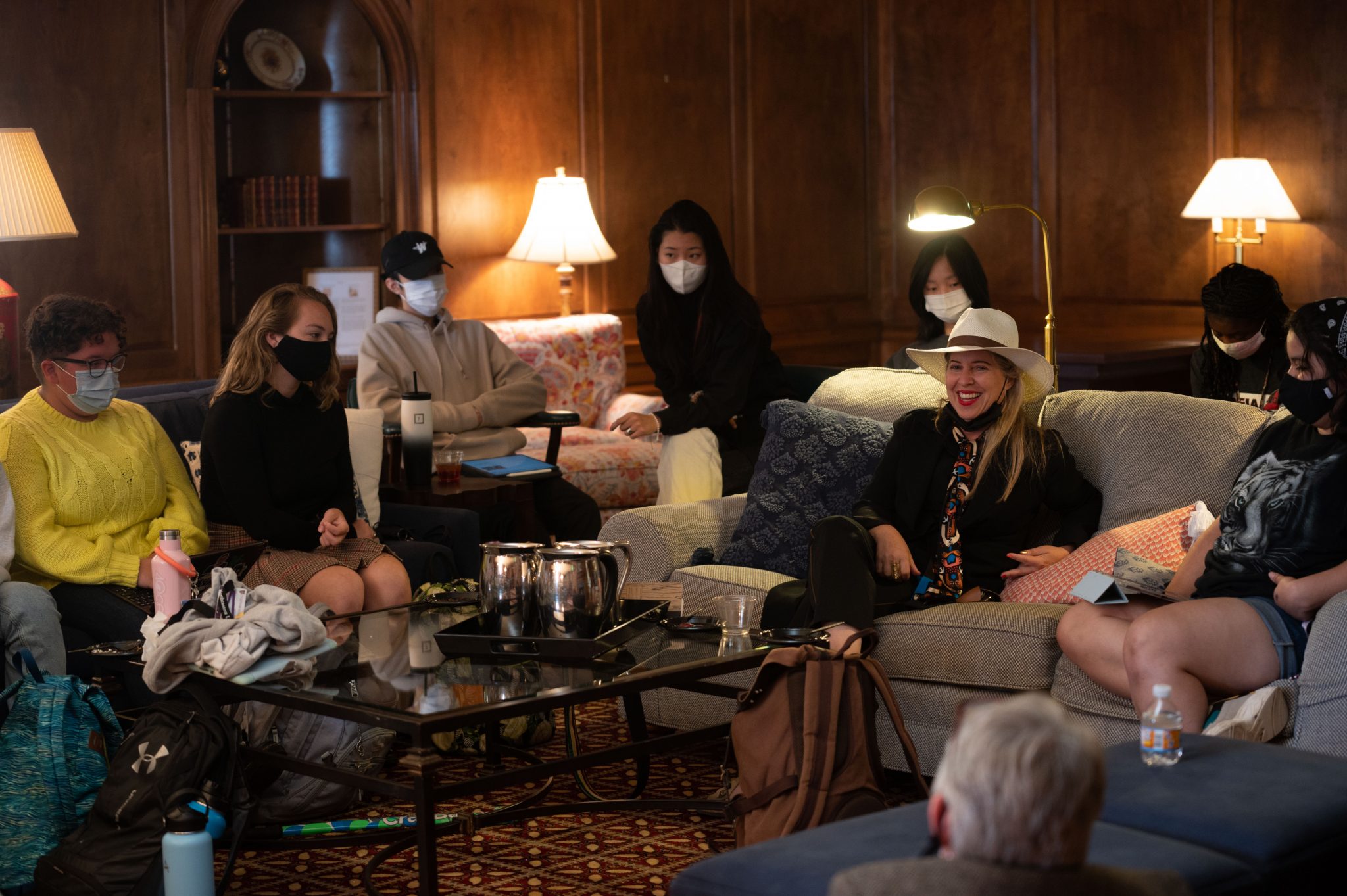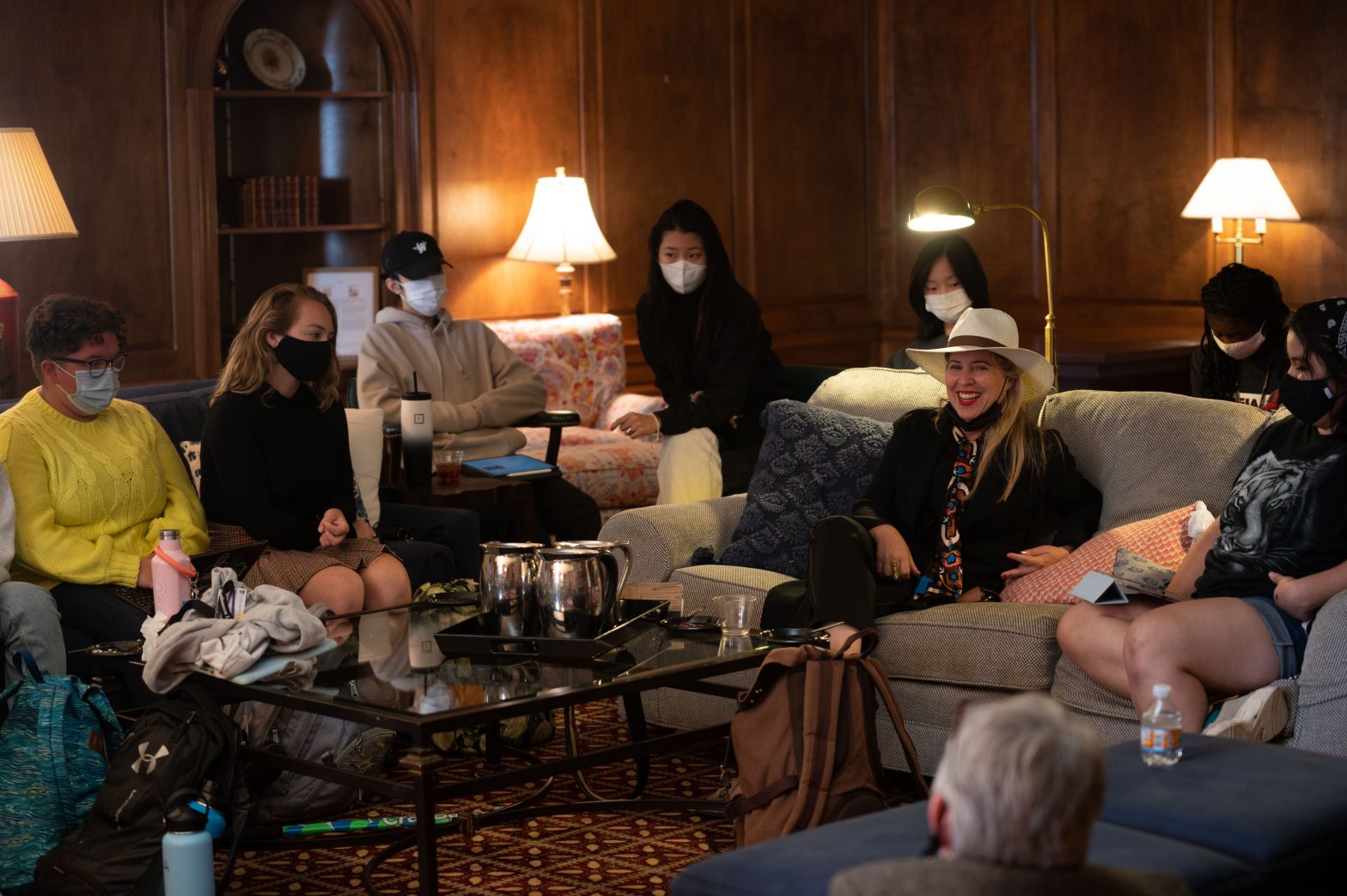 Emmy-nominated filmmaker, founder of the Webby Awards, and author of the national bestselling book 24/6: Giving up Screens One Day a Week to Get More Time, Creativity, and Connection Tiffany Shlain was at Chatham Hall on Oct. 18 & 19 as this year's Polly Wheeler Guth '44 Leader in Residence.
Shlain has received more than 80 awards and distinctions for her films and work, including selection by the Albert Einstein Foundation as one of the 100 visionaries who carry on his legacy, being listed as one of Newsweek's "Women Shaping the 21st Century," and winning the Marshall McLuhan Outstanding Book Award. She appears regularly in The New York Times and Washington Post.
"Tiffany Shlain's creative experiences are myriad," said Chatham Hall Rector Rachel Connell. "At Chatham Hall, we are committed to helping our students take the first steps towards lives that are all their own and Ms. Shlain has certainly created her own journey for herself. It's been an honor having her on campus and sharing her thoughts with us."
Shlain's residency featured lunch with Honor Council members, large group conversations with students, a visit to the Global Entrepreneurism class, and time with study groups and the rector. As part of her conversations, she asked students what they were excited and worried about, and how the pandemic has changed their world.
"We've had a crazy two years…I think these are the kinds of times that really show you who you are," she noted, before telling students about her own journey to filmmaking, her use of social media, and her intentional "analog interventions" such as nightly journaling so as to not be on screens or manipulated by algorithms at all times.
While this was her first business trip since the pandemic, Shlain lectures worldwide on topics including the relationship between humanity and technology; the future of work; creativity and neuroscience; transforming ideas into reality; Jewish identity; and gender and inclusion. The Museum of Modern Art New York premiered her one-woman performance Dear Human at the start of 2020 to a sold-out crowd and standing ovation.
Shlain's keynote address to the entire Chatham Hall community touched on her own career, her approach to screen time and social media, and the topics and intersections of technology, neuroscience, creativity, and women's rights. She also discussed reframing negative views into positive opportunities. For example, instead of viewing women's history from a position of scarcity of stories, looking at the many female leaders throughout history and adjusting to a perspective of abundance.
"You all with your unique perspective, coming of age at this unique time in history … you have a lot of work to do, but every generation has had a lot of work to do," she told students, noting that the world is shifting to what some are calling a human economy and the skills of curiosity, creativity, initiative, empathy, and multidisciplinary thinking are in demand in every field. Skills, she pointed out, that are quintessentially human and not based on technology.
Shlain received a standing ovation led by the students, and took the time to compliment the first student to stand noting the courage it often takes to be the first to take a stand for something.
Tiffany Shlain was Chatham Hall's 18th Leader in Residence, joining the likes of former President of Ireland and U.N High Commissioner for Human Rights Mary Robinson, primatologist Jane Goodall, professional tennis player Venus Williams, Rear Admiral Ann C. Phillips USN (Ret.), and author and historian Doris Kearns Goodwin. The program was made possible by the legacy of Polly Wheeler Guth '44 and welcomes female leaders in different fields to campus to give Chatham Hall's students the opportunity to see what drives these leaders and how they came to their careers, and to help students realize that they can attain goals that they set for themselves and be leaders, too, in powerful ways.