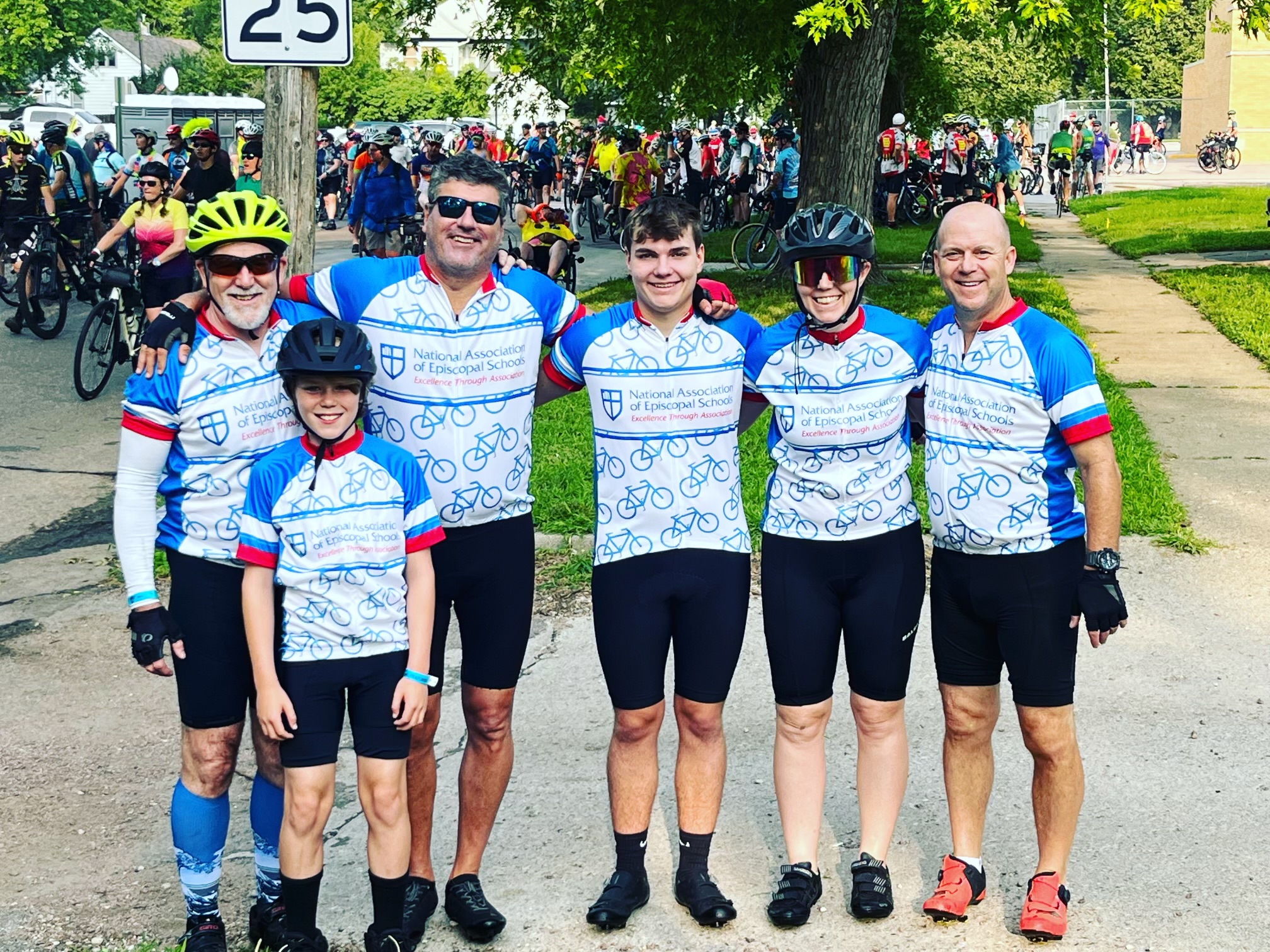 When we think about the glue that holds our amazing NAES community, we typically gravitate toward our common mission, values, or governance model. However, a small group in Atlanta has added one more intersection of our commonalities – bicycles. It started with regular meetings about COVID, which turned into conversations about diversity, equity, and inclusion, which led to hosting and sharing the cost of DEI speakers.
As we began "returning to normal" after the pandemic, someone asked, "Do you want to go for a bike ride?" From that simple question, the idea was born to sign up for the week-long event known as Register's Annual Great Bicycle Ride Across Iowa (RAGBRAI). In 2021 three heads of schools, a chaplain, a spouse, friends, parents, children, and even a board member prepared for a test of endurance and a week together before the beginning of another school year.
This summer, we named our team NAES. With the NAES logo and "Excellence through Association" emblazoned across our jerseys, it was easy to connect with people from around the nation who had attended, taught, or had family members enrolled at Episcopal Schools.
RAGBRAI is famous for the community that it builds between strangers. There is a saying about RABGRAI: "You don't come to ride a bike; you come to get loved on by the people of Iowa." It's a true saying. Every town shows up just to make sure all the visiting cyclists have what they need and feel welcome. This welcome ranges from churches baking pies to farmers offering their showers. The hospitality in Iowa is radical and a reminder for our schools of what the kingdom of God looks like in action.
On one particularly grueling day, one of our teammates, the parent of Holy Innocents' Episcopal School's chaplain, Stefanie Taylor, and grandfather to Episcopal school student Mattis, got separated from the group. A flat tire put him about an hour behind everyone. Unbeknownst to the group, his phone died, and he could not receive the pin drop to our camping location. We expected him an hour later. He did not show up. Two hours went by, then three. At that point, big sirens started blaring, and the police came through to evacuate everyone to safety. A tornado was on the way, and Erich was still out on the course. Stefanie, her mom, and her children were sent to Walmart to wait out the storm. Paul Barton (Head of School at Holy Innocent's and NAES Board Member), Brian Sullivan (Head of School at St. Benedict's) and his son, Ase (alumni of St. Benedict's), took shelter at an event center.
At one point, Mattis told his mom, "This is the first time I've really been scared in my life." His papa was out in the tornado and couldn't be reached. Paul and Brian told Stefanie they were going to show up with pizza and help her wait with the kids. She insisted they stay put. But their teammate was stuck in a Walmart with two frightened children, so they hailed an Uber. The first Uber canceled on account of the storm. The second Uber arrived. This Uber ride could be an entire story for a different article! But they arrived safely at Walmart, pizza in hand.
Mary, Stefanie's third-grade child, reached up to her head of school, Paul, and grabbed his hand. The two walked back to the campsite hand in hand when the all-clear was given. Upon arrival, Erich was there, safe and sound. Stories were shared, a hundred miles put on legs that day, and pizza eaten at 10 p.m. Most notably, a team of Episcopalians showed up for one another and didn't let anyone bear the burden of fear alone. This story not only defines RAGBRAI, but it is at the heart of what is to be an Episcopal School.
If you're up for an eight-day, seven-night 450+ mile ride across Iowa, join Team NAES on the last week in July. The ride starts at the Missouri River and ends in a town on the Mississippi River. Details can be found at https://ragbrai.com; or contact one of the authors, The Rev. Brian Sullivan (b.sullivan@stbs.org) and The Rev. Stefanie Taylor (Stefanie.taylor@hies.org).