You can only gain access to certain items and special pricing if you have logged in. Login Now.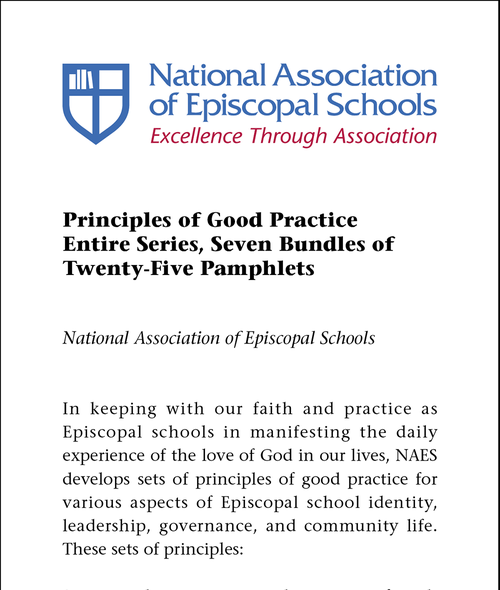 Principles of Good Practice: Complete Series
National Association of Episcopal Schools
Format:
Print/Tangible (requires shipping)
Members - $100.00
Non-Members - $175.00

Description:
In keeping with our faith and practice as Episcopal schools in manifesting the daily experience of the love of God in our lives, NAES develops sets of principles of good practice for various aspects of Episcopal school identity, leadership, governance, and community life. This bundle deal contains 25 copies of each of the seven topics covered by the NAES PGPs.

- Chapel and Worship in Episcopal Schools
- Equity and Justice in Episcopal Schools
- Furthering Episcopal Identity in Episcopal Schools
- Governance in Episcopal Parish Day Schools
- Leadership Transitions in Episcopal Schools
- School Ministry in Episcopal Schools
- The Study of Religion in Episcopal Schools

Regular price per topic is $18.75 (members) or $25 (non-members) for each bundle of 25.
Product Details:
| | |
| --- | --- |
| Product ID: | PGP-FULL |
| Publication Year: | 2020 |
| Pages, Size, or Length: | 7 Pamphlets, 4" x 9" |