New York, NY — Biennial Conference is the premier Episcopal school gathering of heads of school, early childhood education program directors, rectors, trustees, vestry members, chaplains and teachers of religion, senior administrators and faculty members, diocesan and regional school leaders, education professionals and consultants, and friends.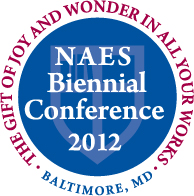 To support the widest attendance possible, NAES is pleased to offer scholarships for Biennial Conference 2012, this November 15–17 in Baltimore, Maryland. The scholarships may be used to underwrite the costs of the "Full Conference" registration fee, housing at the Baltimore Marriott Waterfront, and transportation. Member schools may apply for up to two scholarships of $1,000 each.
In making the awards, priority will be given to:
Early childhood education programs with limited budgets
New heads, new rectors, and new chaplains who are in the first years of their current tenures.
Schools experiencing financial hardship
Schools with limited professional development budgets
A complete set of criteria and necessary forms are available here. All schools applying for a Biennial Conference 2012 scholarship must be a NAES member for both the 2011-2012 and 2012-2013 school years.
The application deadline is June 1, 2012. A pdf of the scholarship application may be found at the bottom of this page.
Questions? Please contact Linda A. Glad, CAE, CMP, at (800) 334-7626 ext 6306 or by email at lag@episcopalschools.org.
Biennial Conference 2012 Highlights
Thursday, November 15
Pre-conference Special Focus Sessions:

Heads new to Episcopal schools
New chaplains
Starting an Episcopal School

Community Service Project
Offsite Workshops
Opening Eucharist and Conference Opening Reception
Friday and Saturday, November 16 and 17
57 on-site workshops on a wide range of Episcopal school topics, including: early childhood education, leadership and governance, church-school relations, development and communications, Episcopal school culture, service and service-learning, chapel and worship, the study of religion, and child and adolescent development.
Featured speakers including Krista Tippet, host of NPR's "On Being."
Networking Breakfasts for heads, early childhood educators, chaplains and teaches of religion, administrators, teaches, rectors, and trustees.
Saturday Morning "Deep Dive" sessions on the Haiti Partnership Program, parish day school governance and management, and education and gender.
Program and Registration
The Biennial 2012 preview program and registration information will be mailed to all schools and available online by May 1. Conference registration and hotel reservations will open when the brochure is mailed.