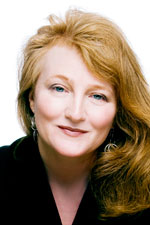 New York, NY—Krista Tippett, the noted author and National Public Radio host, will offer the key note address the National Association of Episcopal Schools' (NAES) Biennial Conference 2012, NAES announced today. The conference will take place November 15–17, 2012, in Baltimore, Maryland. Tippett will speak at the conference's Plenary Breakfast on Friday, November 16, 2012.
"We are thrilled to have someone of Krista Tippett's thoughtfulness and ability to challenge, provoke, and inspire us at Biennial Conference," said the Rev. Daniel R. Heischman, executive director of NAES.
About Krista Tippett
Peabody Award winning broadcaster Krista Tippett grew up in Oklahoma, attended Brown University, and spent most of the 1980's in divided Germany. She was the New York Times stringer in Berlin and also reported for Newsweek, the International Herald Tribune, the BBC, and Die Zeit. Later she served as a special political assistant and chief Berlin aide to the U.S. Ambassador to West Germany.
She wrote her first book, Speaking of Faith (Penguin, 2007) in part to answer the question she is often asked—how she went from that mode of geopolitical engagement to becoming a religious person and student of theology. When she emerged from Yale with a Master of Divinity in 1994, she saw a black hole where intelligent journalistic coverage of religion should be. As she conducted a far-flung oral history project for the Benedictines of St. John's Abbey in Collegeville, Minnesota, Tippett began to imagine radio conversations about the spiritual and intellectual content of faith that would enliven and open imaginations and public discussion.
On Being (formerly Speaking of Faith) is public radio's weekly program about "religion, meaning, ethics, and ideas." The show is produced and distributed by American Public Media and is currently heard on over 200 public radio stations across the U.S. and globally via the web and podcast. With Speaking of Faith and its newest incarnation, Being, Tippett has inspired a new mode of intelligent, in-depth discussion about faith, ethics, religion, and meaning in everyday life.
Tippett takes a narrative approach to religious and philosophical conversation. She draws out the intersection of theology and human experience, of grand religious ideas and real life. On Being is about drawing out compelling and challenging voices of wisdom on the most important subjects of 21st-century life. Topics range from "Einstein and the Mind of God" to "The Spirituality of Parenting" to "Diplomacy and Religion in the 21st Century."
The new name of her radio program is highly indicative of Tippett's goals and philosophies. The word "being," she says, "is an evocation of the primary biblical name of God. 'I Am Who I Am' can better be translated, I remember my teacher of Hebrew pointing out, as 'I Will Be What I Will Be.'…["Being"] points at 'religion, meaning, ethics, and ideas' as endeavors at the heart of human life—not confined to Sunday mornings or Friday evenings, not on the sidelines of real life, but at the essence of who we are and whatever we do." For Tippett, "being" represents questions like "What kind of person will I be? What constitutes a worthy life? How can I be of service?"
Tippett's second book, Einstein's God: Conversations About Science and the Human Spirit (Penguin, 2010), argues that science and religion, far from being mutually exclusive, are complementary realms of inquiry. Tippett initiates profound and often moving conversations with experts in a variety of disciplines: well-known physicists, a Darwinian scholar, respected surgeons, a widely-recognized psychologist. Tippett's goal, as her listeners know, is to understand how religious revelations, diverse spiritual practices, and cutting-edge advances in science and medicine can inspire and improve the way we live our lives.
When she is not making radio—and even when she is—Krista Tippett is a mother of two, an avid reader of literary mystery novels, a practitioner of yoga, and a lover of great science fiction, particularly Battlestar Galactica. She is currently at work on a new book slated for publication in 2012.
About the National Association of Episcopal Schools
The National Association of Episcopal Schools (NAES) is an independently incorporated, voluntary membership organization that supports, serves, and advocates for the vital work and ministry of those who serve over 1,200 Episcopal schools, early childhood education programs, and school establishment efforts throughout the Episcopal Church. Chartered in 1965, with historic roots dating to the 1930s, NAES is the only pre-collegiate educational association that is both national in scope and Episcopal in character. The Association advances Episcopal education and strengthens Episcopal schools through essential services, resources, conferences, and networking opportunities on Episcopal school identity, leadership, and governance, and on the spiritual and professional development of school leaders.