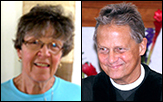 The Governing Board of the National Association of Episcopal Schools (NAES) is pleased to announce that Merrily Dunlap (far left) and the Rev. P. Roger Bowen (left) will be honored, for their dedicated and exemplary work in and service to Episcopal schools, at the Association's Biennial Conference 2012, this November 15–17 in Baltimore, Maryland. The presentation of the Ruth Jenkins and John D. Verdery Awards, NAES' highest honors, will take place at the Plenary Luncheon on Friday, November 16.
Merrily Dunlap
Merrily Dunlap, recipient of the Ruth Jenkins Award, was the inaugural executive director of the Commission on Schools of the Episcopal Diocese of Los Angeles from 1991 through 1998. In this capacity she created procedures and protocols for the schools in the diocese, strengthened the relationships among the schools, parishes, and diocese, and served as a valued member of the diocesan staff. As one former head of school says, "her expertise, intelligence, reputation, and calm voice made her the perfect choice" for her diocesan role. From 1976 to 1991, she was head of school at Saint Mark's Episcopal School, Altadena, California and taught at St. Mark's Episcopal School, Downey, California from 1968 to 1975. She began her teaching career in public schools. Mrs. Dunlap was a member of the NAES Governing Board from 2000 to 2009.
The Rev. P. Roger Bowen
Roger Bowen is to receive the John D. Verdery Award. The retired headmaster (2002-2007) of St. Stephen's Episcopal School in Austin, Texas, Fr. Bowen is currently the principal liaison in the United States to the Episcopal Diocese of Haiti Partnership Program and a tireless champion and advocate for the 254 schools in that diocese. He began his career as a parish priest in West Virginia and then worked in the Peace Corps in Tonga. He then served as chaplain at St. Albans School, Washington, DC and the Church Farm School, Exton, Pennsylvania. He went on to be the upper school head at St. Stephen's and St. Agnes School, Alexandria, Virginia (1991-1994) and, from 1994 through 2002, headmaster of York School in Monterrey, California. He is the author of "Opportunities for Ministry in Episcopal Schools" in the 1997 edition of Reasons for Being: The Culture and Character of Episcopal Schools, published by NAES.
We hope you will join the community of Episcopal schools in honoring and celebrating Merrily and Roger in Baltimore. We look forward to seeing you at Biennial Conference 2012, November 15–17!