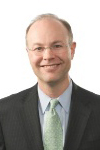 [SAES] Robert Kosasky, head of school at St. Andrew's Episcopal School (SAES), Potomac, Maryland, was honored on April 8, 2013, when he was awarded The Washington Post Company Educational Foundation's Distinguished Educational Leadership Award. Kosasky, who has led St. Andrew's since 2002, was the only head of an area independent school to receive the honor. In total, 18 principals earned the award.
"I am honored and humbled to receive this award," Kosasky said. "It reflects most of all the dedication of our St. Andrew's faculty and community to developing each child's potential."
The winners will be honored at a ceremony at The Post on May 7. "The better the principal, the more creative and vital the teachers," said Jay Mathews of The Washington Post in a column accompanying the awards announcement.
"I can think of no head of an independent school who more richly deserves 'The Distinguished Educational Leadership' award," said Ron Goldblatt, executive director of the Association of Independent Maryland & DC Schools. "A shining example to his peers, a successful, visionary leader who knows the difference between ill-considered change and thoughtful, measured school improvements, Robert Kosasky is truly worthy of the Distinguished Educational Leadership Award."
The Washington Post Distinguished Educational Leadership Award seeks to recognize those principals who go beyond the day-to-day demands of their position to create an exceptional educational environment. St. Andrew's parent Kevin McShane has been a teacher for 25 years and currently works at an area independent school. He was asked whether Kosasky keeps abreast of developments in the field of education.
"A better question is 'does the field of education keep abreast of the activities that Robert inspires at SAES?,' McShane said. "Under Robert's guidance, the school started The Center for Transformative Teaching and Learning. This well-recognized program connects the teachers at the school with professors at The Johns Hopkins University School of Education so that teachers have access to the latest neuro-developmental research. They can then apply the research findings in their classrooms. The program is so successful that other school are asking for facilitators from SAES to help them keep up with brain research."
Jim Naughton is a parent of a St. Andrew's alum, is a current St. Andrew's parent, and he sits on the school's board of trustees. He wrote a statement of support when Kosasky was officially nominated by Anne Wallace, the chair of the board of trustees.
"I could have written about Robert's strategic acumen in opening a lower school for St. Andrew's which for most of its 35 years was grades 6-12, or about his emphasis on meaningful community service as an integral part of an education, or about the outreach to a school in Haiti and an educational program for young adults in South Africa that have been initiated and sustained, respectively, during his tenure. However, for me, the heart of his achievement has been in demonstrating that you can have a school in which children can learn to excel, but at which they can also learn… they are valued and respected by people who believe in them, and who will ultimately help them get where they want to go."
In order to be eligible for the award, principals must meet a number of criteria. They must manage effectively; demonstrate and encourage creativity and innovation; foster cooperation between the school and the community; maintain a continuing dialogue with students and parents as well as faculty and staff; keep abreast of developments in the field of education; encourage team spirit; demonstrate leadership and exemplify commitment; continue to play an active role in the classroom; and maintain their position as principal throughout the 2013-2014 school year.