[Saint Mary's School] Saint Mary's School Board of Trustees Chairman William G. Taylor of Charlotte announced today to an assembly of students, faculty, and staff in Pittman Auditorium, that Monica M. Gillespie, Ph.D., has been named the 13th head of Saint Mary's School, Raleigh, North Carolina, in its 170-year history, effective July 1, 2012.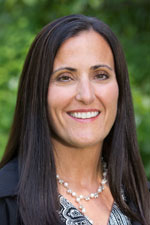 Dr. Gillespie earned B.A., M.Ed., and Ph.D. degrees from the University of Virginia, with her doctoral dissertation focused on independent school leadership. As an undergraduate at Virginia, she played varsity soccer, lettering all four years. She currently serves on the Governing Board of the National Association of Episcopal Schools (NAES) and the board of Goucher College. For the last six years, Dr. Gillespie has served as the head of school at St. Paul's School for Girls (SPSG), an Episcopal all-girls school outside Baltimore. Prior to serving St. Paul's School for Girls, she was, for three years, head of school at St. Luke's Lutheran School in Culpeper, Virginia. Earlier in her career, for a total of eight years, she taught, coached, advised, and served in the residential communities at two single-sex boarding schools, Westover School in Connecticut and Woodberry Forest School in Virginia.
"Monica brings to Saint Mary's nine years of head of school experience, a passion for educating girls, deep appreciation for the Episcopal heritage of Saint Mary's School, and a distinguished background in education," says William G. Taylor of Charlotte, chair of the board of trustees and chair of the head of school search committee. "We believe that she is the right person to succeed Theo Coonrod and to successfully lead Saint Mary's in the years ahead. She will be both an exemplary leader and a remarkable role model for our students."
Dr. Gillespie will begin her term at Saint Mary's on July 1, 2012, obviating the interim headship previously announced. The Rev. Dr. Smokey Oats, who had been appointed interim head while the search continued, will continue to serve the school as a member of the board of trustees. The current and 12th head of school, Theo Coonrod, who has served with distinction since 2000, will retire at the end of June.
Dr. Gillespie will reside on Saint Mary's historic campus with her husband, John Gillespie, and their children.
"I am deeply honored and profoundly humbled to have the opportunity to serve the students, faculty, staff, alumnae, parents, trustees, and friends of Saint Mary's as head of school," says Dr. Gillespie. "I have been inspired by the school community's shared commitment to Saint Mary's core values. Excellence in teaching and learning are apparent when entering each classroom and speaking with students and faculty. The school's emphasis on personal achievement in mind, body, and spirit supports the students holistically. I believe the dynamic combination of Saint Mary's students and its talented educators creates the ideal environment for girls. The school's 170-year heritage is rich in tradition, Episcopal values, and opportunity for women."

About Saint Mary's School
Saint Mary's School in Raleigh, North Carolina, is an independent, Episcopal, college-preparatory, boarding and day school dedicated to academic excellence and personal achievement for girls in grades 9-12. Founded in 1842, Saint Mary's is the fourth-oldest girls boarding and day school in the nation.