[St. Martin's Episcopal School, Atlanta, GA] St. Martin's Episcopal School opened its newest facility and newly renovated campus on August 22. A recent campaign added a 42,000-square-foot middle school building with LEED Silver "green" certification and renovated the main campus library, computer lab, science labs, cafeteria and several classrooms to better support student learning as well as extracurricular programs.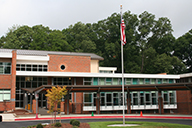 The new building includes 15 classrooms: two science labs, a music room, a drama room and 11 academic classrooms. The science labs are state of the art; one includes an outdoor learning space/garden. The building also has a very large meeting room, "the atrium," that can be used for assemblies or meetings.
The building is wired for technology to support a new iPad program, and every classroom has SmartBoard technology. The new building has much more space for the 196 middle school students and their teachers. The hallways are wider and the lockers are 40% larger. Every student has a second locker for PE clothes.
Additional renovations expanded the cafeteria to almost double its previous size. The computer lab was relocated and expanded to provide more space for desktop computers, a robotics lab space and a studio for the school's broadcast TV program.
"Everyone is very excited about the new and renovated facilities," said the Rev. Dr. James Hamner, headmaster. "Teachers are planning a variety of new ways to teach and enhance student learning, and parents and students love having more space in the new building."
Ms. Christina Mimms
Director of Communications
St. Martin's Episcopal School
404-228-0719 (direct)
cmimms@stmartinschool.org