New York, New York, November 11, 2020—The National Association of Episcopal Schools (NAES) has announced the Rev. David A. Madison, D.Min. as the next Executive Director of the association. Fr. Madison is currently the Executive Director of the Southwestern Association of Episcopal Schools (SAES) where he has served since 2015.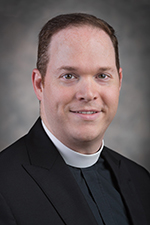 As Executive Director of SAES, Fr. Madison has provided ministry and leadership to over one hundred schools across six states and eleven dioceses in the southwest United States. While serving SAES, he "has proven his ability to identify, nurture, and develop relationships with key constituents and partners, both internal and external, who have demonstrated the best practices in Episcopal identity in helping to further the Association's mission and goals," writes Ed Kim, NAES Governing Board President.
After earning a bachelor's from Austin College and a law degree from Baylor University, Fr. Madison passed the State Bar and practiced law during his early career. He then attended seminary at Nashotah House in Wisconsin, graduating cum laude with a Master of Divinity degree. Soon thereafter, he was ordained as a priest. He went on to serve All Saints' Episcopal School (Fort Worth) as the director of religious studies and chaplain before being appointed assistant head of school and head of upper school. In 2014, he completed a Doctor of Ministry degree in educational leadership at Virginia Theological Seminary in Alexandria, VA.
In this appointment, NAES finds a clear alignment on mission and values. "Our mission of serving those who serve Episcopal schools is one that I have felt called to and have enthusiastically embraced in my role as Executive Director of the Southwestern Association of Episcopal Schools." writes Fr. Madison. "As a former Episcopal school student, teacher, chaplain, and administrator, I have experienced first hand the transformational work taking place on our campuses to serve young people and to make this world a better place."
Fr. Madison will begin his tenure with NAES in 2021 as Executive Director-Elect, initially replacing outgoing Associate Director, Ann Mellow, and later transitioning fully to his new role upon the retirement of the Rev. Daniel R. Heischman, D.D., the current Executive Director, in 2022. "I am delighted with the news of David's appointment," wrote Dan Heischman. "We have worked together on a number of projects and have come to admire his considerable skills. I also look forward to working with him next year in a year of transition." NAES is profoundly grateful for the service of both Mellow and Heischman, and looks forward to a smooth transition in executive leadership over the next year and a half.
The National Association of Episcopal Schools (NAES) is an independent 501(c)(3), voluntary membership organization that supports, serves, and advocates for the vital work and ministry of those who serve approximately 800 Episcopal schools, early childhood education programs, and school establishment efforts throughout The Episcopal Church. Chartered in 1965, with historic roots dating to the 1930s, NAES is the only pre-collegiate educational association that is both national in scope and Episcopal in character. The association advances Episcopal education and strengthens Episcopal schools through essential services, resources, conferences, and networking opportunities on Episcopal school identity, leadership, and governance, and on the spiritual and professional development of school leaders.
Press Contact:
Jonathan F. Cooper, Communications Manager
jfc@episcopalschools.org
(212) 716-6182