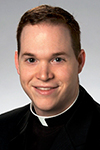 [SAES] The Board of Directors of the Southwestern Association of Episcopal Schools (SAES) is pleased to announce the appointment of the Rev. David A. Madison, D.Min., as executive director, effective July 1, 2015. A proven leader with a keen mind and compassionate heart, Dr. Madison steps into this role as someone who has a lifetime of first-hand experience in Episcopal schools—from student, to pastor, to teacher, to administrator.
After earning a bachelor's from Austin College and a law degree from Baylor University, Dr. Madison passed the State Bar and practiced law during his early career. He then attended seminary at Nashotah House in Wisconsin, graduating cum laude with a Master of Divinity degree. Soon thereafter, he was ordained as a priest. A pastoral appointment in Christian education led David to embrace his true gift of teaching. He went on to serve All Saints Episcopal School (Fort Worth) as the director of religious studies and chaplain before being appointed assistant head of school and head of upper school. Earlier this year, he completed a Doctor of Ministry degree in educational leadership at Virginia Theological Seminary in Alexandria, Virginia.
Throughout David's career, he has demonstrated a personal commitment to the Anglican tradition of excellence in education and has embodied the term "lifelong learner." He is characterized as a servant leader whose diplomacy skills have smoothed many a troubled sea. As such, David is uniquely qualified to carry out the mission of SAES, which is "to lead, to nurture, and to unify Episcopal schools in order to advance educational excellence within the faith community of the Episcopal Church."
The Board is grateful to the search committee, led by Leo Dressel, chair, and comprising Pat Adams, Geoffrey Butler, the Rev. Ralph Howe, and the Rev. Frances "Boo" Kay, with Gloria Snyder as the consultant. Their hard work and dedication to SAES have led to the selection of a candidate who will continue to provide the quality of services that association members have come to expect under Connie Wootton's excellent leadership.