The National Association of Episcopal Schools (NAES) is pleased to announce that Jonathan F. Cooper will join the staff as Communications Manager beginning June 15, 2017. He succeeds David J. Schnabel, CAE, who will retire June 30 after 21+ years on the NAES staff.
Jonathan Cooper is currently communications coordinator and music associate at St. Thomas Episcopal Church, Terrace Park, Ohio, which is home to St. Thomas Nursery School and a number of other significant outreach ministries. In his current position, he manages all internal and external print and digital communications, marketing, and social media efforts for St. Thomas and its programs.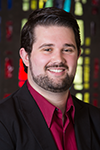 A 2012 graduate of the conservatory of music at Baldwin Wallace University, he received his master of music degree in voice performance in 2014 from the University of Cincinnati Conservatory of Music. He has appeared regularly as a bass soloist with Collegium Cincinnati, The Bach Ensemble of St. Thomas, Trinity Chamber Orchestra (Cleveland, OH), and Christ Church Cathedral Choir (Cincinnati, OH). At St. Thomas he sings in its Bach Vespers series and the parish choir. He is also a board member of the Bach Ensemble of St. Thomas. Born in the United Kingdom, he began his singing life as a chorister at St. Peter's Collegiate School, Wolverhampton, UK.
Beginning June 15, you may contact Jonathan at jfc@episcopalschools.org, (800) 334-7626, ext, 6182, or (212) 716-6182.
Please join us in welcoming Jonathan to NAES!