In ceremonies on November 21 at its Biennial Conference 2014 in Anaheim, California, the National Association of Episcopal Schools (NAES) honored Laura C. Walker and the Rev. Peter G. Cheney with its Ruth Jenkins Award and John D. Verdery Ward, respectively. The awards are presented at the discretion and by vote of the NAES Governing Board and recognize outstanding service to Episcopal schools and the Association.
"The Governing Board is delighted to honor and celebrate Laura's and Peter's lives and ministries in this way. They served particular Episcopal schools and the wider Episcopal school community with immense wisdom, heart, distinction and dedication," said Doreen S. Oleson Ed.D., NAES Governing Board President. Added the Rev. Daniel R. Heischman, D.D., NAES Executive Director, "Their deep personal spirituality and abiding commitment to the children, families, leaders, faculty, and staff at our schools are models of servant leadership to which all Episcopal school leaders should aspire."
Said Laura Walker, "I am deeply humbled to receive this great honor." Said Peter Cheney, "Having met John Verdery, it is an honor to receive this award named for him."
Laura C. Walker
Laura Walker is a long-term Episcopal and independent schools leader in Florida and on a national level. She began her work in Episcopal schools in 1983 as a teacher at St. Thomas Episcopal Parish School, Coral Gables, where she rose to become Head of School (1988-1995). From 1995 through 2003, she was Head of School and President of Palmer Trinity School in Palmetto Bay, an Episcopal school serving grades 6–12. She also has served as the Interim Head of School (2004-2005) at Saint Joseph's Episcopal School in Boynton Beach. Beginning in 1995, she was a ten-year member of the NAES Governing Board, serving as chair of Biennial Conference 1998, Advancement Committee Chair (2000-2002) and Governing Board President (2002-2005).
The Rev. Peter G. Cheney
The Rev. Peter G. Cheney was NAES Executive Director from July 1998 through June 2007. Under his leadership, the Association inaugurated its Principles of Good Practice series; established the Outreach Fund Grants program; wrote and implemented two strategic plans (2001 and 2006); revamped its communication, technology, and staffing infrastructure; grew its membership to an all-time high; and instituted a fiscal plan that enabled it to create a significant reserve fund. Ordained in 1976, he served a number of parishes before joining the faculty of St. Paul's School, Concord, New Hampshire, in 1983. At St. Paul's, he served in numerous roles during his nine years there. Since departure from NAES, he has served on the boards of Imago Dei Middle School and St. Michael's Parish Day School, Tucson, Arizona and St. Paul's School, Concord, New Hampshire.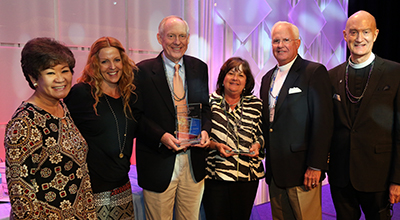 Left to Right: Doreen S. Oleson, NAES Governing Board President; Kiki Fenik; The Rev. Peter G. Cheney; Laura C. Walker; The Rev. H. William Walker; and The Rev. Daniel R. Heischman, NAES Executive Director.