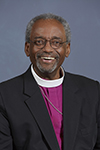 This past weekend, the world was introduced to our Presiding Bishop & Primate, the Most Rev. Michael B. Curry. His message—which was broadcast worldwide, reaching an audience of nearly 30 million in the United States alone—focused on one topic: the redemptive power of love.
Curry was elected in 2015 to serve as Presiding Bishop at the 78th General Convention of the Episcopal Church, a historic moment as Bishop Curry was the first African-American to have been chosen for that role. In the context of the Episcopal Church, part of the worldwide Anglican Communion, the post of Presiding Bishop & Primate is equivalent to that of an Archbishop.
When it was announced last week that the Presiding Bishop would be preaching, many Episcopalians and Anglicans knew to expect a powerful sermon. The Archbishop of Canterbury tweeted "I'm thrilled that Prince Harry and Meghan Markle have asked Bishop Michael Curry to preach at their wedding. [He] is a brilliant pastor, stunning preacher and someone with a great gift for sharing the good news of Jesus Christ."
However, Bishop Curry's message clearly struck a chord far beyond the pews of St. George's Chapel, Windsor. As referenced by NPR, Vox, the New York Times, Washington Post, Esquire, and Fox News, Bishop Curry's words, in combination with the profound symbolism of a descendant of black slaves and share croppers preaching to British royalty, have emerged as a clear highlight.
You can read a full transcript of the sermon here, or watch the video below.
---
Did you know?
Bishop Curry is a former chaplain of Bethany School, in Cincinnati, Ohio, and currently serves as honorary chair of the board of NAES.
---