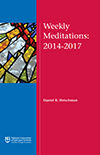 The National Association of Episcopal Schools (NAES) announces the publication of Weekly Meditations: 2014-2017, the second collection of Weekly Meditations by the Rev. Daniel R. Heischman, D.D., executive director of NAES.
The Weekly Meditation began in 2011, as a regular email to the Association's member heads, rectors, and chaplains. In 2016, the first collection of meditations was published, covering the first three years of this endeavor. With the publication of this most recent volume, all six years are now represented and available as a resource to the wider school and Episcopal Church communities.
These meditations are intended to inspire and encourage those who guide, lead, and tend to Episcopal schools and the students and families in their care. The weekly emails are eagerly awaited by many each Monday morning during the school year, and are often circulated far beyond the typical constituency of Episcopal schools.
These collected meditations will appeal to a wide Episcopal audience — heads of school and trustees; vestry members and parish clergy; bishops and diocesan staff; faculty members, chaplains, and administrators; parents; educators in general — all of whom will find these thoughtful musings about the rhythm and culture of our schools, their Episcopal identity, the demands of leadership, and the education and moral development of our students to be honest, accurate, and uplifting. Equally suitable for reading in a single sitting or over many, these messages in turn comfort, provoke, encourage, and nourish readers as they move through the world of Episcopal schools and beyond.
NAES members will receive a complimentary copy of Weekly Meditations: 2014-2017. Additional copies can be purchased online through our store. Weekly Meditations: 2014-2017 can also be purchased as a package with the previous collection, Weekly Meditations: 2011-2014 for a reduced price. Visit the NAES store here.