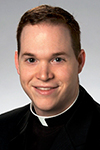 Please join NAES in welcoming the Rev. David A. Madison, D.Min., as the new executive director of the Southwestern Association of Episcopal Schools (SAES). Dr. Madison succeeds Connie A. Wootton, who retired this past June 30.
Dr. Madison joins SAES from All Saints' Episcopal School, Fort Worth, Texas, where he served as the director of religious studies and chaplain before being appointed assistant head of school and head of upper school. He is also currently a General Convention Deputy from the Episcopal Diocese of Fort Worth and a past president of that diocese's Standing Committee.
NAES looks forward to continuing its strong and collaborative partnership with SAES under Dr. Madison's leadership. Welcome David!